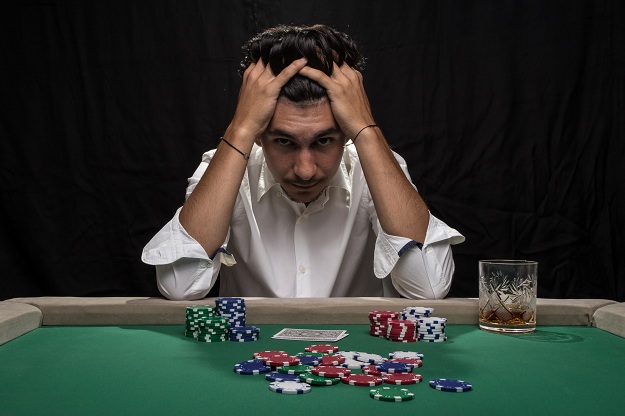 Poker
---
Gutshot Poker Tips: Battle a Tilt With These 4 Ways
Ever wanted to pull your hair out due to a rookie mistake? Every poker player has been on that side of the table. They have obviously been on the wrong end of a flip or multiple flips. This causes irritation and their judgement as well as their finance goes flying out, simply due to frustration!
In a nutshell, 'tilting' in a online poker game simply means making poor decisions due to dissatisfaction and frustration at the poker table!
What causes a poker player to tilt?
Tilt can come in various forms. But the most common form of a tilt is due to the popular term 'bad beat'!
If a player takes a bad beat, they can be characterized as "going on a tilt". A bad beat can be a very subjective term, in which a player with strong cards and higher odds may lose nevertheless.
However, a bad beat isn't the only cause of a tilt.
There are a variety of things that will potentially set a player on a tilt! If luck forbids giving him a good hand, he will obviously get frustrated and play with any random cards he gets!
Another scenario could be that if a player finds himself folding to his opponent's bluff! That might get the player really thwarted and he might deviate from his usual game. Moreover, if he folds pre-flop before a monster-flop, he obviously gets frustrated!
Now, how should he tackle a tilt?
1) By staying away from emotions: Dealing with emotions and playing poker, never go hand in hand! You must ensure that you don't get too emotional about a tilt, as that poses to be quite a serious problem! You need to be discerning and be absolutely clear-headed to get back on track! Stop yourself if you realise that you are shouting at the opponents or getting physically threatening.
2) By understanding when he is on a tilt: It's a well-known phrase- prevention is better than cure. Catching something, before it hits you is always better than trying to get rid of it when it does. Hence, for a player, catching a tilt is very vital. The outcome of dealing with issues early is always positive.
3) By taking a break: Of course, you would personally love to continue playing the game till you win. But you must realize that there is one thing at stake- your love for the game! Your poker energy can be rejuvenated by taking a break for a couple of days! This will give you a better perspective on your game. Perhaps, in this break time, you can assess your own previous game- Where did you go wrong? What did you do right? Or were you just getting pestered by the opponent?
4) By keeping on doing the right things: You can easily combat a tilt if you know that you are doing the right thing when you were affected. You can play safe and have lesser things to worry about. Doing the right thing also means handling your bankroll well. If you go all-in and don't have the finances to support yourself, it will worsen your tilt further. Working out on how much to play with and sticking to a good amount is always a great way to fight a tilt. Some good bankroll management will keep you on a track far away from aiming too much and gaining too little!
If you love playing poker online, we recommend taking notes as you are playing with your opponent and what kinds of psychological skills he has over you. You can keep a note of your bankroll management as well as your winning percentage. Doing this will give you an edge over the game!
If you have any other methods for battling a tilt, we'd love to hear it out! Drop your methods in the comments below.
Get latest updates on Poker right in your inbox – Subscribe Now!
---
---
Comments