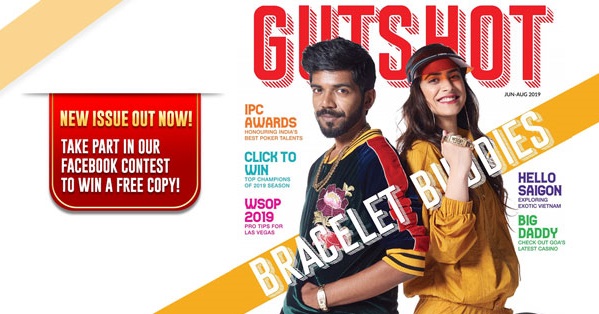 Poker
---
Gutshot Magazine back in print avatar!
It has been a while since we were away but guess what? Gutshot Magazine is back!
Over 2 years since the last print edition of Gutshot Magazine but the wait is finally over as we have returned, with one of our finest editions yet. What's better is that this won't be a one-off copy, but we are now going to be a quarterly publication, so expect plenty more to come in the next few months.
Copies of Gutshot's latest edition have already begun circulating across the country and as you might've noticed, we've featured Aditya Sushant and Nikita Luther on the cover page. Since the 2019 World Series of Poker (WSOP) recently kicked off in Las Vegas, we thought it was apt to feature two of India's only gold bracelet winners in our cover story.
The June-August 2019 edition of Gutshot Magazine is more colourful, juicy and vibrant, and there's plenty of poker and lifestyle content to ingest within its 60-odd pages. The overall gaming industry is booming, and we've incorporated a bit of everything inside. A huge shout out to everyone who has taken time out and helped us with content, guest articles, photography, designing and much more.
For the first time ever, Gutshot has also tied up with international advertisers, which means that copies of Gutshot will be seen overseas as well. We're fresh off a new edition but we're already on the hunt for a new poker hero who we can feature on the cover page of the next edition, so get motivated and get your A-game on right away!
Facebook Contest – Get a FREE Copy!
If you have been around the poker circuit since long enough, you would remember earlier editions featuring the likes of Dhaval Mudgal, Kunal Patni and others. Who do you think would be on the cover of the next edition of Gutshot Magazine? Why not comment on our Facebook post and tag two friends who you think could make it. We are giving away FREE copies to winners who will be selected at random!
CONTEST WINNERS:
Neel Gill
Abhishek Grover
Vimaljeet Singh
Akash Pritom Saikia
Rameshwar Kumar
P Moorthi
Diksha Jawa
Ayodhya Prasad
Sumit CH
Sumit Kulhari
Mukherjee Prince Loknath
Shivam Vij
If you are one of the hundreds around the country who are waiting to get their hands on future copies of Gutshot Magazine, why not sign-up to our newsletter above and stay tuned for all updates from GutshotMagazine.com. We will be launching a subscription for the physical magazine soon and you will definitely be the first to be notified when it comes around!
Check out our online poker rooms section, where you can read reviews on the biggest and best poker rooms in the country, while also taking advantage of their bonuses and promotions. Check out these top poker rooms HERE.
---
---
Comments