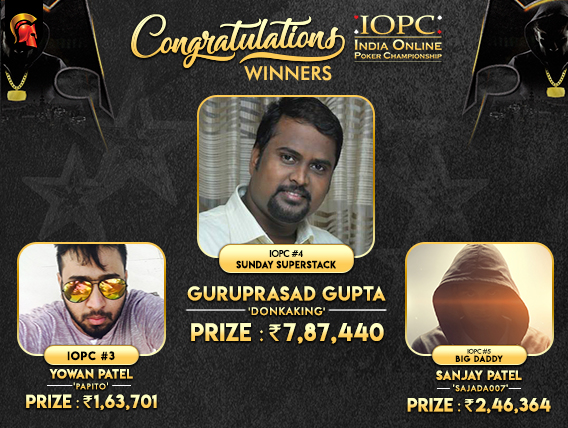 Poker
---
Guruprasad Gupta kicks off July IOPC 2019 in style!
While sports fans all over the world witnessed fantastic endings to Wimbledon 2019 and the ICC World Cup yesterday, every poker player in the country was excited for 14th July for other reasons. Primarily for the start of yet another edition of the India Online Poker Championship (IOPC), which promises INR 11+ Crore in prizes!
Day 1 was fiercely contested yesterday on Spartan Poker and a total of 5 tournaments were hosted in all, with Guruprasad Gupta being the biggest winner of all, shipping the featured tournament of the day – IOPC Sunday SuperStack. Other winners included Yowan Patel, Sanjay Patel and others. Keep reading for a complete summary of IOPC Day 1…
IOPC Event #1 INR 5 Lakh GTD
The prestigious online poker series started with a smaller guarantee and each entry here paid the buy-in of INR 550. 1,226 entries meant the series kicked off in a grand way, breaking the guarantee and creating a new prize pool of INR 6.13 Lakh which was shared by the top 95 players, each getting a min-cash of INR 1,808. 'Strong man' ended up displaying a strong performance as he went on to ship the tournament, while also pocketing the top prize of INR 1,16,960. In heads-up, he created a chip lead of 3.5:1 and shoved all-in pre-flop with pocket Nines in the final hand. His opponent 'metalhead' called with K8 and with the board running dry, he had to settle for INR 72,211 as runner-up cash prize.
IOPC Event #2 INR 4 Lakh GTD
The second tournament of the day also saw a massive participation of 978 entries. Each paying the buy-in of INR 660, the guarantee was passed again to create INR 5,86,800 in prize money, eventually shared among the top 71 players with a min-cash of INR 2,229. 'YourWhaleness' was the champion of this tournament, bagging an IOPC title as well as INR 1,13,252 for topping the field and getting past 'Walter White' in heads-up. It was Qc Jc vs Qs As in the final hand and with the board running out Ah 6s 6d 5d 5c, YourWhaleness won with Aces and Sixes, and Walter White had to settle for INR 71,354 for finishing second.
IOPC Event #3 INR 5 Lakh GTD
The trend of guarantees being crushed continued as 846 entries each paid INR 1,100 to join this, the third tournament of the day. The prize pool of INR 8,46,000 was much higher than the advertised prize amount and the spoils were shared among the top 63 finishers of the event, each bagging a minimum of INR 3,680. Yowan Patel plays as 'PAPITO' on Spartan Poker and he has won a few titles in the past including Destiny and more recently, 5For5 on Spartan itself. Here, he outlasted the field again last night and managed to bag the top prize of INR 1,63,701 after beating 'Besi' in heads-up. The final hand was a PFAI where Patel had Ah Td and he spiked an Ace on the flop itself as his opponent had to settle for INR 1,03,212.
Gutshot reached out to Patel for a word on the experience and he said, "It was a great start for me in this IOPC. I won the 5L GTD which went really smooth from start to end, winning all flips and always being among the top 3 chip counts until the end. When I was heads-up, my opponent and I had the same stacks and I won with a flip where I had A10 and he had 46 where A high was good enough. I shipped the tournament and then came the SuperStack, where I fired 3 bullets and it was going great till the FT. I was chip leading everyone with a 5:1 lead and I won most of my flips and got good spots and used it but on the FT, I lost two big hands. I had A7 on the button where the flop came A79 and I shoved my opponent snapped and had 9-set and the very next hand I had AK, one guy went all in for around 27L, I snap called where he had AQ and board went AQ7J3 after that I was down to 20 BBs and was grinding it out and eventually finishing 4th but overall it was a great day for me shipping one tournament and finishing well in another."
IOPC Event #4 Sunday Super Stack INR 30 Lakh GTD
This was the much-awaited featured tournament of the day. The usual Sunday SuperStack had its guarantee bumped up a bit for the IOPC, but we still managed to have a fantastic participation of 816 entries. They each paid INR 5,500 to participate and the prize pool was driven up to INR 40.8 Lakh, with prizes being dealt out to the top 71 places, each receiving a minimum of INR 15,504 in prize money. Guruprasad Gupta aka 'DONKAKING' has a habit of winning big tournaments also having won PokerBaazi's MoneyMaker in the past. Here, he took down the tournament and bagged the top prize of INR 7,87,440, beating 'tintin333' in heads-up. The latter was also decently paid out with INR 4,96,128 for finishing second. Talking about the overall experience and shipping this major title, Gupta said, "I had stopped playing on Spartan Poker since the last few months, but I recently decided to play, and Spartan welcomed me with this huge win. It's my biggest score on Spartan, the previous best being INR 6.4 Lakh in last year's IOPC Mega Stack event."
IOPC Event #5 Big Daddy INR 10 Lakh GTD
The day ended with the very popular Big Daddy tournament that had a buy-in of INR 1,650 attached to it. Once again, a number of known pros were a part of the field and 851 entries participated to beat the guarantee (like every other tournament on IOPC Day 1) and create a new prize pool of INR 12,76,500. It was a good day for the Patel community as here, it was Sanjay Patel aka 'Sajada007' who went on to ship the tournament and take away the top prize of INR 2,46,364. The final hand was Threes vs Tens and 'tankman' shoved all in on the turn only to get a call from Patel, who had completed a set on the flop and with the board running out 3s 7c 9d Kc 3d, he completed quads on the river.
For all timely updates on the rest of the IOPC series on Spartan Poker, stay tuned to GutshotMagazine.com.


Don't have an account on Spartan Poker? Check out their review page here, and don't miss out on their bonuses, promotions, and guarantee-smashing tournaments. Sign-up now.
---
---
Comments