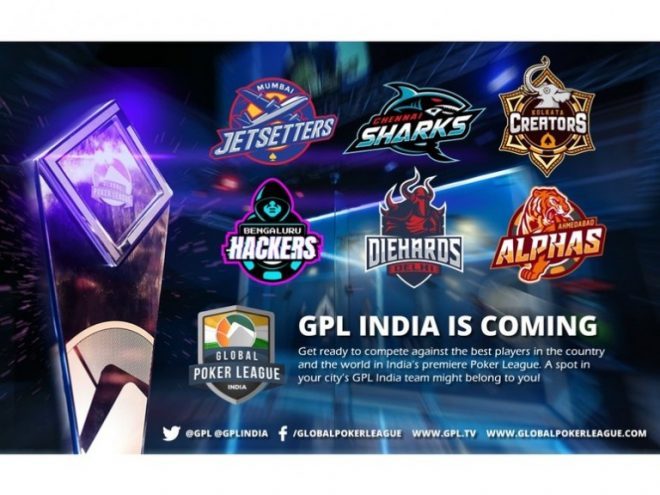 Poker
---
Global Poker League to debut in India
With poker emerging as a mind sport in India and making its mark in this market Global Poker League, a team-based poker competition is set to enter the Indian market with the launch of GPL India. The regional league will include six teams covering India's "largest and most poker-friendly" cities, Tuesday's press release reads. Teams from Delhi, Mumbai, Bangalore, Chennai, Kolkata and Ahmedabad will have a mix of Global Poker Index (GPI) pro players as well as "grassroots" qualifiers.
The national team-based league "will function as a promotional platform for poker as a sport throughout the country and help tie India into the game's worldwide community," it was stated. The company is aiming to start GPL India Season 1 in the first quarter of 2018. The announcement of GPL India follows on from the completion of the international Global Poker League Season 1 last December, and the launch of the first regional tour, GPL China, is currently underway. Season 2 of the GPL is still expected next year.
"GPL India will take all the lessons learned in GPL's first season, as well as GPL China's current successful rollout, to create the most legitimate—and, perhaps more importantly, most appealing—poker competition witnessed in India until now," it was stated.
The six teams in GPL are:
Delhi Diehards
Mumbai Jetsetters
Bengaluru Hackers
Chennai Sharks
Kolkata Creators
Ahmedabad Alphas
India is already attracting a lot of interest on the league front. Before the GPL, The Poker Sports League (PSL), founded by Indian online poker room Adda52 ran its first successful event this year. Recently, Match Indian Poker League (MIPL) announced its inaugural season with eight local franchises set to take place in October.
Alex Dreyfus, the founder of Mediarex Sports & Entertainment, the parent company of the GPL, told PRO that he welcomes the existing local initiatives. While each event aims to showcase poker as a game of skill, the execution of each is quite different. The PSL culminated with a live poker event while the MIPL looks to use poker software on mobile devices to conduct its format. "We have a five-year experience in sportifying poker," Dreyfus said, and they will use what they have learned to execute the format successfully in India.
While details are still unclear on the exact format to be adopted for GPL India, it is expected that it will follow the GPL China model. According to information released to media.
Season 1 of GPL India will be 8-12 weeks long starting in Q1 next year. This will be followed by Season 2 after summer. The League will feature a mix of Online Matches, Studio Matches as well as Live Matches.
But the Global Poker League has not been without its flaws. "In GPL International Season 1, we produced 180 matches, 400 hours of content. It was too much; it became a bit boring and dry," acknowledged Dreyfus saying that the Indian format will mirror the tweaks and innovations his company has planned for GPL International's Season 2.
All of these announcements of leagues in the span of less than one year has everyone on the Indian circuit excited but Dreyfus has warned that this will be a long process, "Don't expect GPL to change the face of the game in year 1. That will not happen. We are investing and building-up a platform to help poker to be seen as a sport, skill game and structure it like a League in order to connect with mainstream media." He envisions a 10 year plan for GPL India in keeping with his long term vision for the growth of the sport in this country.
Drefus has made 'sportifying poker' his tagline for the GPL and he wants to capitalise on the ever growing interest for the sport of poker in a massive market like India. Indian players will have to wait for a few months as we keep following the progress of GPL India with bated breath. Stay tuned to Gutshot Magazine for more updates on this story.
---
---
Comments