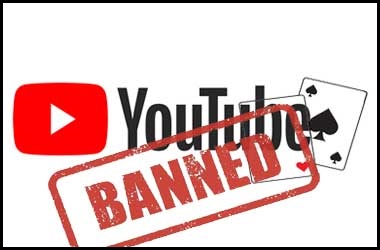 Poker
---
Flaws in YouTube algorithm removes poker content
During this time of health crisis across the world, nearly all casinos have been shut down forcing the poker players and the fans to stay in inside which means the demand for poker content is at its peak. Several of these players earn their living by creating videos on YouTube and once again, through its censorship algorithm, the site has targeted poker channels.
Over several years now, Andrew Neeme and Brad Owen have created a large fan base by shooting poker vlogs. Video content became more plentiful as upcoming vloggers who were streamers playing on Twitch began producing content for YouTube as well.
Poker fans might be disappointed by YouTube removing poker videos. Back in 2019, one of the biggest poker streamers on Twitch, Jaime Staples first reported about his missing videos whose more than 130 contents were removed from the channel. According to him, there is a problem in with the site's algorithm that filters those contents violating the terms of services. Staples who has more than 73,000 subscribers on his channel took to his Twitter on 18 Feb 2020 to fight back and he is now compiling data from all creators who have affected by this act.
Brad Owen, another popular vlogger with 195k subscribers to his YouTube channel, faced the same issue. "I had five videos removed at the beginning of February and I was given a strike. I appealed those decisions. Three of those appeals were approved, but two were rejected, including the video I was given a strike for."
Owen was spared a little as the flagged video weren't recent leaving his latest content unaffected. "It's been very bizarre," said Owen. "None of us YouTube content creators know what's going on or why we've been having issues. There has been little or no response from YouTube's side. The videos that have been flagged were from years ago. It seems to be a glitch from the AI that reviews content. Hopefully it'll all get resolved soon."
Jeff Boski on 9 March tweeted a screenshot of YouTube's message informing that his channel had received a second strike and with that he was banned from uploading any content or starting any live streams for two weeks. If he receives another strike, he will be kicked out of YouTube.
You can check out his Tweets below:
Boski said that even though the entire problem rests with the bot, YouTube's support staff doesn't do enough to inform creators what was wrong with the video which would help the vloggers work around the next time. He also added, "The problem is the lack of support from YouTube. There is no one to talk to that can tell us what we did wrong. We just get the generic 'harmful and dangerous' content or 'regulated goods.' Of course, we can fill out the max 300-word appeal to try to get our videos reinstated, but this is also not interactive."
Further he added, "Imagine your girlfriend saying, 'If you do that again, I'm going to break up with you. You ask, 'What did I do wrong?' She replies with, 'You know what you did wrong.' You are left with no information on how to fix the problem and you risk losing something that you care deeply about."
Owen thinks if the social media platform doesn't make the changes to its algorithm, a lot of the content could migrate to another website.
For latest updates on poker industry and gaming around the world, keep reading GutshotMagazine.com and stay tuned!
Check out our online poker rooms section, where you can read reviews on the biggest and best poker rooms in the country, while also taking advantage of their bonuses and promotions. Check out these top poker rooms HERE.
---
---
Comments