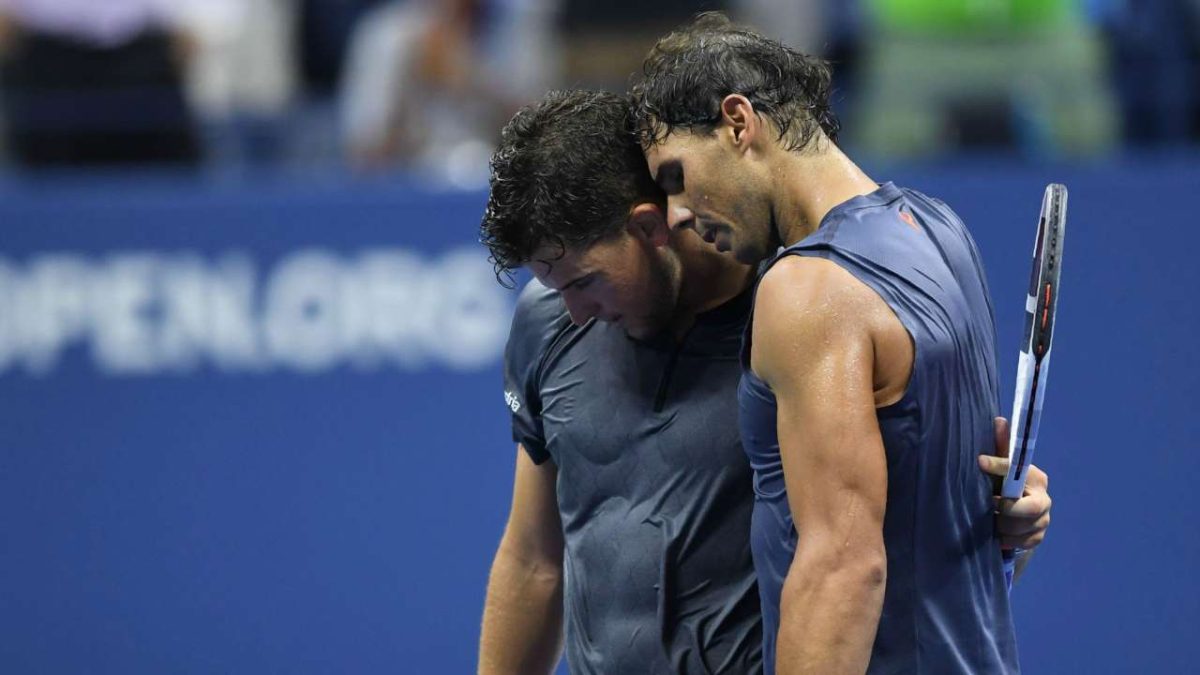 International
Nadal defeats Thiem in a 5-Set thriller

by Gutshot Editorial
Posted on 05 Sep, 2018
Yesterday, we wrote about how 2nd seed Roger Federer got knocked in the Round 4 of this year's US Open. Top seed and the reigning US Open champion Rafael Nadal was in an uncomfortable position yesterday too. He faced 9th seed Dominic Thiem in the tournament's quarter final which was a 5-set thriller between the two. Nadal emerged victorious in the end, but it was an epic, bruising battle which lasted for nearly five hours.
It fell short of being the longest match in the tournament's history, a 5-hour 26-minute battle between Stefan Edberg and Michael Chang in the 1992 semi-final, but it was this year's longest which ended 0-6 | 6-4 | 7-5 | 6-7(4) | 7-6(5) | after 4 hours and 49 minutes. Nadal played the longest US Open match before this match in Round 3 against Karen Khachanov which went on for 4 hours and 23 minutes.
Yesterday was the 11th meeting between Nadal and Thiem and it lived up to its expectations as it was a very intense match with the majority of points being contested from the baseline and yet none of them looked tired as they continued to race side-line to side-line, went up to cover drop shots and back again for the followed lobs. Thiem was playing his first US open quarter final but he did everything right. Well, almost. He hit 74 winners, fearlessly cracking thunderbolt forehands and one-handed backhands into corners and on the lines. He also had 18 aces.
The defending champion was not taking it lightly as he countered with 55 winners. Never acknowledged for playing good volleys, Nadal bravely came to net at many crucial points in the match, winning the point 36 times. After the match, Nadal said, "I just kept going." He also said about the Austrian, "I told him that I am very sorry, and you are very good." Thiem also had a few words to say after the match, "Yeah, it's going to be stuck in my mind forever. Forever I'm going to remember this match, for sure. It's cruel sometimes, tennis, because I think this match didn't really deserve a loser. But there has to be one. And I would say if we skip the first set, was really open match from the beginning to the end. The way it ended up in the fifth set tiebreaker, there it's 50/50. He made one more point than me."
In other matches, 3rd seed Juan Martin Del Potro defeated 11th seed John Isner 6-7(5) | 6-3 | 7-6(4) | 6-2 in the quarter final of the Men's Singles, defending champion and 3rd seed Sloane Stephens lost to Anastasija Sevastova 2-6 | 3-6, Serena Williams defeat Karolina Pliskova 6-4 | 6-3, J. Cabal & R. Farah defeat R. Bopanna & E. Roger-Vasselin 6-3 | 6-4.
Check out our online poker rooms section, where you can read reviews on the biggest and best poker rooms in the country, while also taking advantage of their bonuses and promotions. Check out these top poker rooms HERE.

---
---
Comments