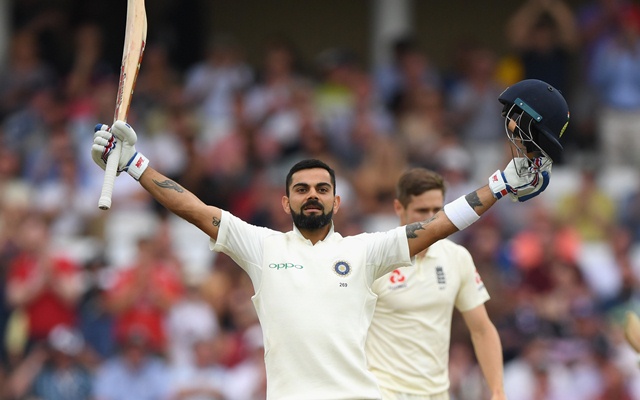 International
India set England massive target of 521 in 3rd Test

by Gutshot Editorial
Posted on 21 Aug, 2018
The morale in the Indian camp would've been low after two consecutive losses in this Test series in England. However, captain Virat Kohli made a statement prior to the 3rd Test, saying that the players do much better 'when they have their backs against the wall'. They've proved that in this match, having won session by session and day by day so far.
Yesterday was Day 3 of the match, where India started at 124/2 with a lead of nearly 300 being accumulated. Most would've expected India to bat one or two more sessions, but Kohli didn't seem intent on declaring any time soon, as he knew they had a lot of time in this game and they wanted an emphatic victory, that would hurt the English side.
They tired out the England bowlers, with Cheteshwar Pujara scoring 72 at a strike rate of just 34.62, and Kohli registering his 23rd Test and 58th international century, which was also his third slowest test century. He was dismissed by Chris Woakes for 103(197) and what was a freakish co-incidence is that Sachin Tendulkar also scored his 58th international century against England, with the exact same score of 103(197).
Even after his dismissal, he let the team keep scoring, as Hardik Pandya scored a fifty and bettered his test match, having earlier picked up a 5-wicket haul on Day 2. India ultimately declared at 352/7, after a couple of overs of slogging. They had a few overs left in the day to pick up a couple of English wickets.
However, the openers batted solidly for the 9 overs they had to play out. Ishant and Bumrah were deadly with their opening spells and though India created chances, England went into stumps at 23/0, and a mountain still left to climb in the game. No team has ever come back from a 2-0 deficit to win a Test series abroad, except Bradman's Aussies decades ago. Can Kohli's Team India do it as well?
Keep reading GutshotMagazine.com for a daily update on the 3rd Test between India and England.

---
---
Comments