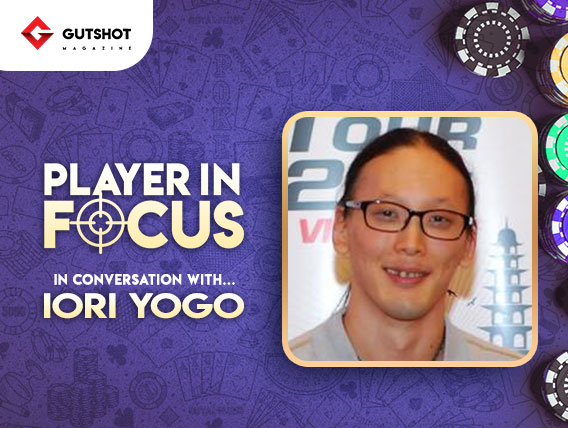 Poker
---
EXCLUSIVE: Japan's Iori Yogo reflects on a successful 2018
It has been over 8 years since Iori Yogo first cashed out in a live poker tournament. Since then however, he has scaled so many heights in the Asian and international poker scene, with countless achievements under his belt. Today, he stands tall as one of the most feared mid-stakes tournament players in Asia.
The Japanese player first learnt about the game way back in 2002, during his education at Queen's University in Canada. He graduated from there in 2006, majoring in Mathematics and Computing. Clearly, those math skills have been put to brilliant use over the years, having turned into a poker professional in 2010.
Even after turning pro, Yogo only played a few tournaments here and there until his initial good run began in 2013 in Australia, where he and a group of friends went for a 3-month cash game trip. It was after that that he started to put in a lot more volume in tournaments.
2018 in particular was an absolutely brilliant year for Yogo, and you can check out how he cashed all over the world in the year that recently came to an end. He began by winning the APT Philippines Championships Event in April, went on to win the APT Korea Main Event in August and then ended the year by shipping the APT Finale Championships Event last month. His 2019 poker adventures will also begin soon, with Asian Poker Tour (APT) commencing its Kickoff Event in Vietnam on 9th January 2019.
Even though he is such a big name in the Asian circuit today, Yogo has not been associated with or endorsed any major poker companies or websites as he believes he would give very little to such companies. He believes that being good at poker is not enough to qualify as an ambassador of a company.
Gutshot Magazine decided to have a small chat with this Japanese pro to know more about his career so far, his remarkable consistency on the tables, his views on the Asian poker industry and his general plans for the future. Keep reading for more…
Excerpts from our exclusive interview with Iori Yogo
Iori, you've had many big wins, but what according to you has been the highlight of your poker career so far?
There are several poker tournament wins and POY (Player of the Year) wins that made me happy over the years, but I just cannot pick a single one.
You seem to love the Asian Poker Tour, with 20 side event titles over the years…
APT provides good tournaments. When I say, 'good tournaments', I mean 'good structures'. Good structures are almost synonymous to good tournaments, because they provide a longer average playing time for the customers (players). It's not about ROIs, not about skill, edge and such things. Good structures are good because customers get more entertainment out of their bucks.
The year 2018 was great for you, winning not just one, but three major APT titles. Does it make you feel like a top name in Asian poker?
2018 was good. I consider myself as 'one of the top names in the low to middle stakes Asian tournament scene', but a 'top name in Asian poker'?? No way. First of all, the major leaguers in Asia are ones who play HKD 1k-2k in Macau, or perhaps those who play SHR events over HKD 100k. I play HKD 50-100 or 100-200 cash games, and tournaments that range between $300 and $3000. It would be reasonably accurate to say that I am in the 'Double A', but definitely not in the 'AAA'. Am I doing good in the 'AA'?? Yes, I crush it.
What is your take on the future of live poker in Asia? How do you think it can get better?
Poker in Asia is growing but there are plenty of changes that can be made to ensure more players stick around. I hope the following for the Asian poker scene:
Less rake, especially in cash games. Currently, 10% rake, capped at $15-$50 is prevalent in Asia, which is killing the players.
Cash games need to undergo a radical change. 9-10 handed no ante hold'em is getting boring. Eventually, people will lose interest. The Asian organizers should spread short-handed games, and also kick in antes.
Spread more variants of poker. I don't mean short deck or other variants of hold'em, but I mean non-hold'em games! This includes Omaha, Stud, Draws, etc. You will certainly get bored if you play only one type of game, and bored people leave the industry. Offering mixed games could prevent that from happening.
Have you ever been to India? Any plans of travelling to India for a tournament series soon?
I have never been to India, and as much as I would like to plan a trip to the country, the taxation is too heavy to justify flying over when there are other opportunities in Asia.
RAPID FIRE:
Live or online poker? I prefer live. It is more social, and it is softer.
Best place to play? Definitely Las Vegas – my favourite poker destination.
With the Asian poker industry booming, do you have plans of starting a poker venture of your own? No, no poker venture plans as of now.
Any particular goals as a player? My goal as a poker player is to keep winning until I become 70 years old.
We wish Iori the best of luck in achieving his goal of crushing it at the felts till he's old. He will be looking to make 2019 an even better year than the successful one he just had. Until then, keep reading GutshotMagazine.com for similar interviews with the top poker players across India and Asia.
– Dwayne Fernandes, Gutshot Editorial
Check out our online poker rooms section, where you can read reviews on the biggest and best poker rooms in the country, while also taking advantage of their bonuses and promotions. Check out these top poker rooms HERE.
---
---
Comments