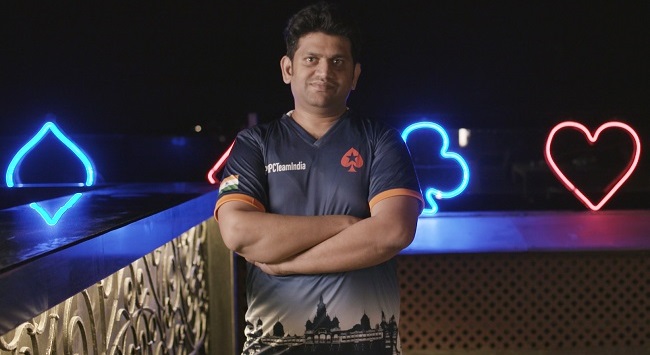 Poker
---
Exclusive chat with PSPC Bahamas participant, Kavin Shah
The PokerStars Caribbean Adventure (PCA) takes place between 5-16 January 2019, and this is one of the most exciting live series in the world, given that it's played in The Bahamas. This year, PokerStars LIVE decided to take things to another level, announcing the first ever PokerStars Players NLHE Championship (PSPC), which is all set to become the biggest $25,000 buy-in event in poker history, beginning tomorrow.
Throughout the year, PokerStars gave away 300+ PSPC Platinum Passes to winners of various live and online tournaments across the globe, and Gutshot earlier reported that eight Indians were also a part of these winners. There, we spoke about these players and how they won their respective PSPC Passes, each worth $30,000 (~INR 21 Lakh).
Just before PCA Bahamas 2019, Gutshot caught up with Kavin Shah, one of the eight who will be representing India at the PSPC 2019. He spoke to us about his journey right from winning his Platinum Pass from the inaugural GPL India, to preparing himself and packing his bags to play poker at one of the most beautiful poker venues in the world. Keep reading for more…
For those who don't know, Shah was captain of Mumbai Jetsetters at GPL India which came to an end in October 2018, and all five members of this team were rewarded with Platinum Passes. This was a brilliant initiative by GPL and PokerStars India, wherein over 8,000 players took part for free, and 5 emerged victorious, winning PSPC Passes worth over INR 1 Crore!
Shah is a Mumbai resident who first picked up the game of poker over 15 years back while pursuing his education in Australia. He was playing 3-card poker with a dealer in a casino and was complaining to the dealer about how the casino has an edge in every game. That's when the dealer suggested playing poker where you can compete against other players at a table, and that's how his journey began with this beautiful game.
Following that day in Australia, Shah had many ups and downs in poker, before he started learning, speaking to people and researching about the game. He credits Raman Gujral and Samay Parikh for improving his game during his early days in poker. Shah also turned pro a few years back but since then, he returned to recreational play in order to balance time between family and his multiple businesses in Mumbai.
Primarily an Omaha cash games lover, Shah tends to shy away from live poker tournaments in India due to smaller fields and extremely high tax rates. However, he doesn't miss out on the bigger events and has thus made a few very successful trips to Las Vegas over the years, including $49k (~INR 34 Lakh) he cashed for finishing 12th in an MSPT DeepStack Championship Event in June 2018.
He has over $110k (~INR 77 Lakh) in tournament live earnings and is now all set to increase that number as he travels to PSPC Bahamas where a staggering prize pool of $9 million (~INR 63 Crore) has been created in contributed prizes, including $1 million (~INR 7 Crore) to be added to first place. Remember, players can also buy-in to this tournament directly. The minimum prize money for the 1st place is set at a massive INR 20 Crore!
Team India will be represented at PSPC Bahamas by Sumit Sapra, Nikhil Segel, Sharad Rao, Kavin Shah, Raman Gujral, Saurabh Sindhwani, Vivek Singh and Aneesh Nair. Of course, PokerStars Pro Aditya Agarwal will also be seen in action during the series.
Excerpts from our exclusive interview with Kavin Shah
Kavin, tell us about your journey through winning the PSPC Pass and this trip to Bahamas.
I was very overwhelmed when GPL called me and asked me to be the manager of one of the GPL India teams – Mumbai Jetsetters. I liked the structure and model and was blown away. I've been playing poker before most of the players in India and was very happy to be a part of such an initiative. I haven't played a lot of tournaments and this was a great chance for me to prove myself and beat some of India's best players. I was very positive and picked a brilliant team, all of who had strong fundamentals in the game, while also travelling to play some tournaments abroad as preparations. Eventually, we did well, got lucky in some spots, won the tournament and the team was overjoyed.
Who among the nine Indians do you think has the best chance of a deep run at PSPC Bahamas?
Honestly, for the amount of hard work put in, I have a decent chance. Team PokerStars India Pro Aditya 'Intervention' Agarwal has been playing for years and he's one of the few Indians who has consistently performed well at tough fields like in Vegas, so he has a pretty solid chance too. Raman Gujral is also a very strong player, while the dark horse will be Sharad Rao. He's a very underrated player who is very dedicated and hard working. He's charged up and motivated to be there, so he's the man to watch out for in Bahamas.
Poker is an individual sport, but here, you're going as part of 'Team India'. How does that make you feel?
Whenever someone says this to me, I feel so, so, so overjoyed. I'm not sure if I'll be able to do justice but we as a team will try our best to do well. It's such a big tournament and if someone does an FT or better in Bahamas, he could be the Chris Moneymaker of India. Moneymaker revolutionized poker in USA, with numbers only increasing after his WSOP Main Event victory in 2003, for which he qualified online. If one of us wins it, it's going to be life-changing for the individual. What a journey and what a story it will be to tell.
Tell us about your preparations done for this trip.
I've been working really hard over the last 6 months, watching videos and learning from pros on subscriptions like Raise Your Edge and Run It Once. The most important thing is being positive as you can't be intimidated by better players on your table. This is a part of poker and part of life as well. There will be people better than you, but that shouldn't stop you from giving your best, regardless of whether Daniel Negreanu, Phil Galfond or Phil Ivey is sitting to your left.
Me, Raman and Vivek also keep discussing strategies. We discuss how to keep your mind calm when short stacked and how to be aggressive when deep stacked. These discussions help you get other players' perspective on the game as this game is very complex and it's important to always have experienced people around you. So, I'm very happy and lucky to be around this team. It's going to be one hell of a time in Bahamas!
It's your first trip to The Bahamas. Any 'off the table' plans?
I'm actually not going there to see what's happening away from the tables and what places I can explore. I've travelled a lot over the years and these things don't excite me much now. Also, I don't expect to be having too much of free time, as I want to be running deep. 6-10th January is the PSPC Event and 12-16th January is the PCA Main Event, so I'll be looking at grinding, coming back and getting a good night's sleep daily. 
You've played at Vegas among the toughest fields and have even cashed in the WSOP Main Event, so how is that experience going to help you at PSPC Bahamas 2019?
I've been doing decently well in the Indian cash game scenario in the last 5-7 years, so I know the fundamentals of the game pretty well. My strength is my good live reads and my ability to learn my opponents on the tables, knowing who to attack and who to avoid completely. I'm an optimist with a very positive mindset so with regards to playing against tough fields, I have no issues at all.
What's your take on this PSPC initiative by PokerStars?
PokerStars has major competitors in the live circuit like World Series of Poker (WSOP), World Poker Tour (WPT) and others. However, PokerStars markets its tournaments beautifully. Look at the PSPC. It begins in January 2019, and the marketing begins in January, OF THE PREVIOUS YEAR! They've spread their wings and have made sure that this is the tournament everyone should be talking about come January 2019. I'm so happy to be associated with PokerStars India somehow and you must give it up to them for these efforts.
What in your opinion is the future of the Indian live poker tournament scene?
Considering the Indian population and the number of people playing poker in the country, it surprises me that we can't hit numbers like 3,000+ for every live tournament. However, I believe that this day is not too far away. Casinos like Deltin Royale are no doubt doing a brilliant job, but they themselves can't cater to 1,000+ people on their ship, which is a major drawback. We need to find ways to make this number go from 700-800 to 3,000+ on a regular basis.
Blind structures also need to be made a little deep. We're paying such high taxes and if the structure isn't deep, after a certain point of time in a tournament, it becomes more of a gamble rather than skilfully playing your cards. In places like Vegas, there's a lot more play-ability due to the deep structures, which brings the skill factor into the equation. For now, I prefer playing in places like Macau where taxes are a less of a headache.
– With inputs from Dwayne Fernandes, Gutshot Editorial
Check out the journey of everyone else from Team India who won a PSPC Platinum Pass:
Apart from the PSPC Event, Shah also expressed plans of playing in the PCA Main Event ($10,000 buy-in) and a few side events, which makes sense since he's making quite a long travel to be there, so why not play a few more tournaments?
PokerStars India's social media platforms will be covering the event, while we at GutshotMagazine.com will be bringing you timely updates of Kavin Shah and the other Indians in Bahamas, so stay tuned.
Check out our online poker rooms section, where you can read reviews on the biggest and best poker rooms in the country, while also taking advantage of their bonuses and promotions. Check out these top poker rooms HERE.
---
---
Comments