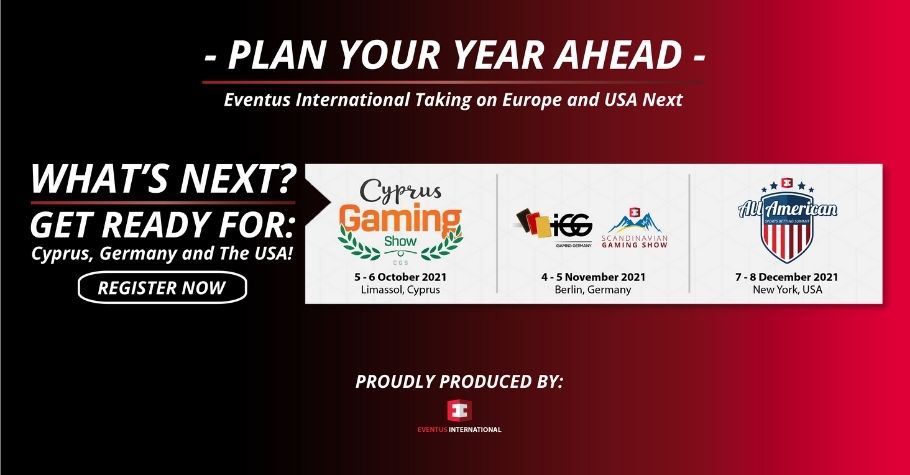 Gaming
---
Eventus International Taking on Europe and USA Next
Eventus International is pleased to announce that all preparations are on track for the 4th Annual Cyprus Gaming Show, iGG (iGaming Germany)/SGS (Scandinavian Gaming Show) and the 2nd Annual All American Sports Betting Summit. The Eventus International team recently welcomed onboard new speakers, sponsors and exhibitors to all three upcoming in-person events; and feedback has been positive.
"Covid has no doubt had an immense impact on the events industry, with a big absence of in-person events. Industry professionals are clearly eager to return, reconnect and network at physical events once again. As more and more people are vaccinated, these last couple of months have shown some encouraging signs of people ready to start interacting and attending in-person events again.  We are delighted to have experienced a high frequency of enquiries for our upcoming European and Latam events, as well as the 2nd Annual All American Sports Betting Summit, set to take place in New York this year", said Yudi Soetjiptadi, Managing Director at Eventus International.
ALSO READ: Mobile Gaming Myths: Did You Know These?
With big industry names such as Yahoo Sports and Scientific Games coming on board for the 2nd Annual All American Sports Betting Summit, ECOMMBX, signing up as Diamond Sponsor for the 4th Annual Cyprus Gaming Show and impulsQ joining as Strategic Partner at the iGG & SGS Merger, Eventus International is positive that all attendees will gain valuable business contacts through formal and informal networking opportunities.
With the next upcoming event, namely Cyprus Gaming Show, being around the corner, Eventus International invited industry experts last week to take part in the 4th edition, which promises to not only focus on the Cyprus gaming industry but also to expand and provide a relevant platform for European stakeholders to meet in a beautiful setting in Limassol. Confirmed speakers include high profile names such as;  Alexandros Constantinou (Group Director and Head of Compliance Support Department at MAP S.Platis Group), Anastasios Belesis (Senior Lotteries Consultant), Andreas Savoullis (Regulatory Analyst at MAP FinTech), Demetris A. Tsingis (Managing Partner at FINCAP Advisors), Michael C. G. Charalambides (CEO & MD at ECOMMBX), Russell Yershon (Director at ConnectingBrands), Stratos Kanakis (Director at Golden Ratio Consulting) and many more.
To view the full conference agendas at each of our events, contact us today: info@eventus-international.com
Eventus International recently expanded their sponsorship and exhibitor package offerings to offer all participants more options on how to boost their brand internationally. As a sponsor and exhibitor at their events, you will be able to position your brand in a room full of executives, speak in front of an audience of gaming leaders, and capitalise on their extensive network of international gaming experts.
Book your participation today: https://www.eventus-international.com
Stay up to date with Eventus International's event and publication offerings, subscribe to our YouTube channel here: https://www.youtube.com/channel/UCl6FRtGlwcLFtYkQxh7uZmQ

---
---
More News
---
Comments