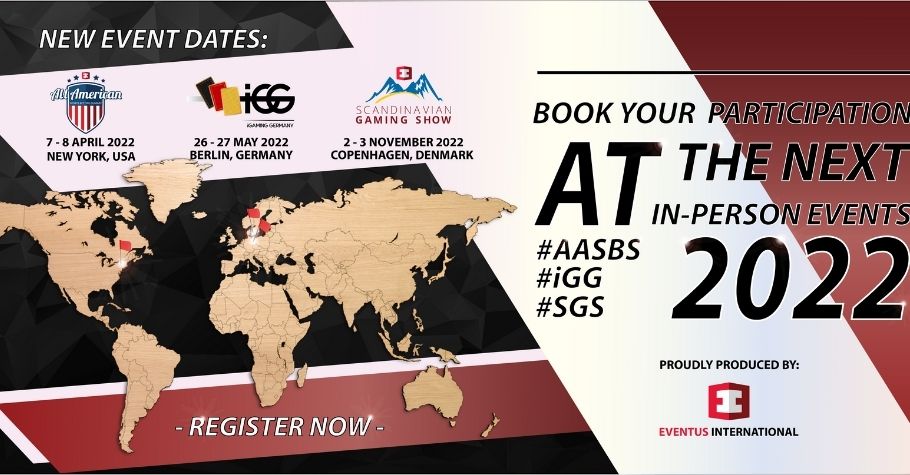 Gaming
---
Eventus International Announces Important Date Changes
If there is an event company that can fight the challenges of the pandemic, it is the globally renowned Eventus International. How do they do this? They have designed a three pillar vision for the Covid-era, namely:
Eventus goes the extra mile to ensure that all Covid-regulations are adhered to ensure the SAFETY of participants at in-person events. From Athens, to Cyprus, to Berlin, and to Dar es Salaam in 2021, Eventus International kicked off with BiG Africa Summit last week, being the first in-person gaming event in 2022 to reunite the Africa Gaming industry. Eventus believes that the traditions of in-person summits should be fought for, for tremendous SUCCESS has been achieved at such events. The pandemic has brought forth creative minds to be innovative by introducing new technologies. For this reason, now more than ever, it is SHOWTIME! 
On this note, the team is pleased to announce that they will be hosting the 4th edition of the Scandinavian Gaming Show in 2022. In order to include the 4th Annual Scandinavian Gaming Show the following events have been rescheduled to accommodate and compliment the overall event calendar:
The 2nd Annual All American Sports Betting Summit has been moved up earlier to 7 – 8 April 2022, taking place in New York, USA at the stunning Marriott Marquis New York. The 2nd Annual iGaming Germany has been rescheduled to 26 – 27 May 2022, taking place at the ideally located Crowne Plaza Potsdamer Platz in Berlin, Germany.
ALSO READ: Is Multi-Gaming The New Black For RMG?
Lastly, the 4th Annual Scandinavian Gaming Show will be returning to Copenhagen, Denmark since it's 2nd edition which took place in 2019. SGS 2022 will be taking place from 2 – 3 November 2022 and will once again bring attendees together from all gaming sectors, disciplines and regions throughout Scandinavia and beyond, featuring industry-specific conference streams, an exciting trade show floor, and interactive networking opportunities with industry peers.
All events will strictly adhere to the prescribed safety regulations and protocols to ensure the well-being of all attendees. For more information on each event and to register your participation, kindly visit: https://www.eventus-international.com/. Stay up to date with Eventus International's event and publication offerings, subscribe to our YouTube channel here: https://www.youtube.com/channel/UCl6FRtGlwcLFtYkQxh7uZmQ

---
---
More News
---
Comments