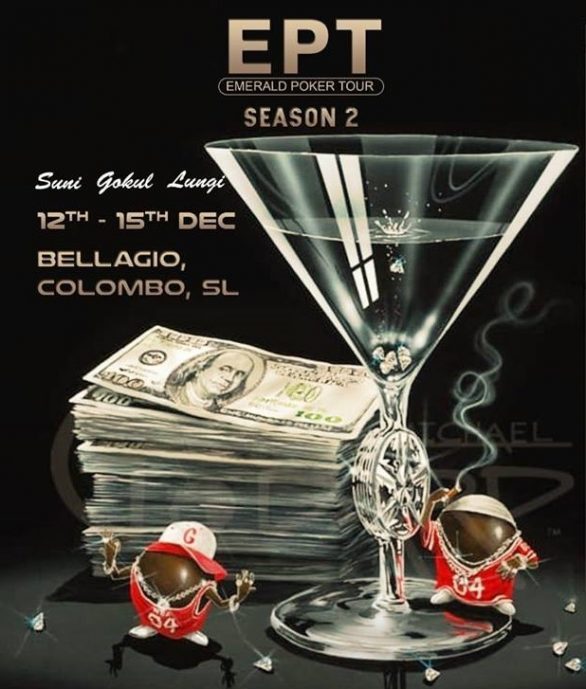 Poker
---
Emerald Poker Tour Season 2 returns to Colombo
Are you a budding poker player or enthusiast? By now, you would know that the game is growing leaps and bounds in Asia, with plenty of venues being added to the poker calendars of top companies like APT (Asian Poker Tour), APL (Asia Poker League), WPT (World Poker Tour) and others.
In Sri Lanka, gambling has always been a grey market and games like poker have never been able to kick off there as the gambling laws have been modified many times and currently, casinos in Colombo are only open to foreign passport holders and in some cases, members. 
Being close to India's official boundaries, Sri Lanka is a viable option for Indians who wish to gamble or play poker, as our currency is stronger and flight tickets aren't too expensive either. One such option for the Indian poker industry is the Emerald Poker Tour (EPT), a cash games festival currently played at The Bellagio in Colombo, which is one of the leading casinos in Sri Lanka. It's not too tough for Indians (and members from other SAARC countries) to get visas. Also there is an ETA (Electronic Travel Authorisation) visa which can be applied online and can be received within 24 hours.
If you missed Season 1, don't miss out on EPT Season 2 which takes place between 12-15 December 2018 at the Bellagio, so get ready for 4 days of cash game action, buying in between LKR 50,000 and 2,00,000. India's Vikram Kumar, Gokul Parvathaneni and Suni Sunder are the guys behind taking our Indian players to Colombo for this edition of the EPT.
Now they've spiced it up a bit for those who will be going to Colombo next week. EPT has promised flight reimbursement and 5-star hotel accommodation (with breakfast) for all those who play at the Bellagio cash tables for a minimum of 28 hours during this period of 4 days.
Gutshot caught up with those who took up the initiative of taking our Indian players to Colombo. "Giving a great player experience is our key driving point and probably that's the reason we get sold out in record time. The Emerald Poker Tour (EPT) is a brand that will go synonymous with good times in the years to come. Cheers and lungi dance," said the very popular Vikram Kumar aka 'Lungi'.
While Lungi needs no introduction, Gokul Parvathaneni and Suni Sunder are both avid poker players from Hyderabad, with the latter also being a ladies tournament winner. Suni commented on EPT 2, saying, "EPT will take you on a journey which will exceed your expectations in terms of hospitality and quality, leaving you with a memorable experience."
Parvathaneni is also a live poker player, who has a biggest score of INR 9 lakh for finishing 2nd in the Baadshah Live Highroller in April 2018. He commented on the poker trip to Sri Lanka, saying, "EPT has got off to the right start and I am sure with such a dedicated team working hard behind the scenes, it will soon become a leading player-friendly brand."
EPT held its first event in the first week of November 2018 in Colombo, and the response was brilliant. Now, the interest for EPT 2 was overwhelming, with the slots getting filled up within a couple of days' time. Around 40 players have signed up for this trip, including recreational players and other notables from the poker community.
This is a chance for players from across the country to travel for poker and experience local hospitality wherever EPT is held. EPT has experienced support staff who look after all the arrangements of the players so that they can just relax and have a good time.
At the moment, EPT is operating from Colombo but there are future plans to host future events in destinations around the world as well. Keep watching GutshotMagazine.com for more future updates on the Emerald Poker Tour.
Check out our online poker rooms section, where you can read reviews on the biggest and best poker rooms in the country, while also taking advantage of their bonuses and promotions. Check out these top poker rooms HERE.
---
---
Comments