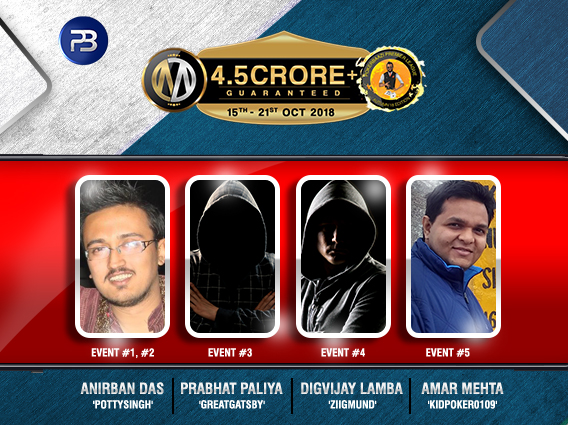 Poker
---
Digvijay Lamba wins PPL Big 20; 2 titles for Anirban Das
This last week or so has been a great time for online poker players in the country. An extremely successful Spartan Super Series (SSS) came to an end just a couple of nights ago, and we then had to dive straight into the PokerBaazi Premier League (Autumn Edition) on PokerBaazi.
The series is scheduled between 15-21 October and yesterday was Day 1 of the series, where five tournaments were played out. There's a lot at stake in this series, with INR 4.5+ crore to be won in tournament winnings along with a lot to offer on the PPL Leaderboard, so there were several players who played in all five tournaments of the day.
PPL Event #1 INR 5 Lakh GTD (RE)
The series kicked off with this INR 1,100 buy-in tournament and by the time we arrived at the end of the late registration period, there were a total of 587 registered entries, breaking the guarantee and creating a new prize pool of INR 5.87 lakh. This was then shared among the top few but the player who went on to ship the tournament and take away the biggest prize of the night was Anirban Das aka 'pottysingh'. He won INR 1,11,530 for this effort and made a brilliant start to the series here on PokerBaazi.
PPL Event #2 INR 2 Lakh GTD (FO)
Another tournament with an INR 1,100 buy-in, only this time, it was a freezeout tournament which kicked off at 5:30pm. Again, a good participation of 244 entries meant that the guarantee was beaten, and a new prize pool of INR 2.44 lakh was generated. Beating this field and taking away the top prize was Prabhat Paliya aka 'greatgatsby' who won INR 46,970 for the victory and finished the day at #8 on the PPL Leaderboard.
PPL Event #3 DeepStack Turbo INR 5 Lakh GTD
This 7pm kick-off tournament turned out to be one of the best of the day, with an INR 1,650 entry fee and a field of 526 entries registering which crushed the advertised guarantee and created a new prize pool of INR 7.89 lakh. Well, no surprises here. It was Anirban Das aka 'pottysingh' who finished as the winner once again, taking away a prize of INR 1,51,882 and ending the day at #2 on the PPL Leaderboard. He cashed in two tournaments through the day and ended up winning both. How's that for a good conversion rate? He beat 'kood' in heads-up who settled for the runner-up prize of INR 1,12,432.
PPL Event #4 The Big INR 20 Lakh GTD
This was the biggest tournament of the night. Usually called The Big Monday, this PokerBaazi featured tournament had its guarantee bumped up for the PPL. An INR 5,500 buy-in meant that it was always going to be a good field. Eventually, 493 entries (including 231 re-entries) joined as the prize pool was taken up even higher to INR 24.65 lakh which was then shared among the top 44 players with a min-cash of INR 12,325.
Emerging victorious from this field and winning the biggest prize of this edition of the PPL thus far was Digvijay Lamba aka 'Ziigmund'. Due to the enormous prize pool, the top 6 players all won 6-figure prizes but Lamba won the biggest of the night, taking away INR 4,68,350 in prize money. He beat 'shipsuperior' in heads-up, who won INR 3,45,100 for finishing as runner-up.
PPL Event #5 INR 10 Lakh GTD
The first day of the PPL Autumn Edition came to an end with this INR 3,300 buy-in tournament. A field of 434 entries meant that the prize pool was taken up to INR 13.02 lakh and by 3am this morning, a winner was declared in Amar Mehta aka 'kidpoker0109'. He rounded up a brilliant day on PokerBaazi, where he cashed in four out of five tournaments on PPL Day 1 including this win, which has put him on top of the PPL Leaderboard for now. He won INR 2,50,635 for beating this tough field, including beating 'superman0837' in heads-up (INR 1,85,535) and Rubin Labroo aka 'kornkid' who busted in 3rd place (INR 1,36,710). Akshay Dhingra aka 'fsociety' was the final player to get a 6-figure score, finishing 4th for INR 1,00,905.
Gutshot caught up with Mehta, who has made a good start to the series. He said, "I was eagerly waiting for PPL to start and glad that I could make a good solid start to the series. To top the leaderboard at the end of Day 1 is special feeling. I generally do well in tournaments having large fields and got a good head start in PPL #2 where I finished 2nd. Coming to PPL Event #5, I pretty much had a swingy ride till end of late registration and was pretty much short throughout. I choose good spots to get my chips in to get the necessary double ups. Managed to reach the final table with the lowest stack and then ran good for the next hour. ICM was a key factor throughout since the pay jumps were quite decent.
My opponent had a massive stack when we started heads up and I had to be very patient in getting the chip lead from him. Managed to do that in about 20-30 minutes of heads up play and was great to win it. Maintaining my position at the leaderboard is going to be very crucial now. My strategy will be to play solid, get into good spots and chip up steadily, manoeuvre around based on the table dynamics for any tournament I play. Hope to continue to the same throughout the series."
Keep reading GutshotMagazine.com for more updates on the PokerBaazi Premier League.

Don't have an account on PokerBaazi? If you wish to play and become a big winner of their massive tournaments and promotions, sign-up now by clicking HERE.
---
---
Comments