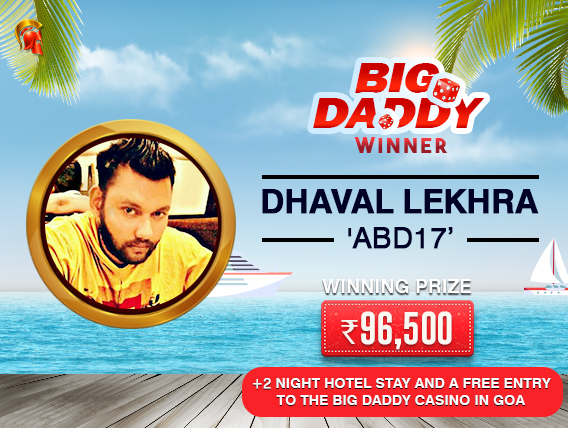 India
---
Dhaval Lekhra wins Big Daddy package at Spartan
Dhaval Lekhra who plays as 'ABD17' will be heading to the sunny shores of Goa soon. Lekhra emerged victorious in the Big Daddy tournament at The Spartan Poker last night outlasting 822 entries in the process. A super value offering to players, this tournament has an INR 550 buy-in with a INR 5 Lakhs guaranteed prizepool! What makes this a true value proposition is that the winner will additionally be awarded with a free travel package to play live poker in Goa. This package worth INR 30,000 features a 2-night hotel stay and a Free entry to the newly opened Big Daddy Casino anchored on the Mandovi River in Panjim, Goa. Remember this is a weekly tournament so there is every chance that one can win this package plenty of times in the year and head to India's favourite beach destination.
Lekhra started playing poker four years ago and he believes it takes at least 3-4 years to be a good player. Speaking about the tournament, he said, "The Big Daddy tournament was tough for me as everyone was playing tight to claim first prize and the Goa package. When the tournament had 12 players remaining, all players left had an approximately same amount of chips. But I had the confidence to ship the tournament ease. Currently, I don't have enough bankroll but I aim to be a professional poker player and one day I dream of playing the biggest live tournament series in the world and that's none other than the World Series of Poker (WSOP). For achieving the same, I am trying my level best to improve my game day by day." Lekhra took the first place for ?96,500 (Tournament Winnings) and 2 Night Hotel Stay and a Free Entry to The Big Daddy Casino in Goa.
The winner Lekhra outlasted his opponent Rajesh 'rkj88688' Patel in the final battle of the tournament. An interesting thing of note is that Patel was last Sunday's Big Daddy tournament winner This edition's winner was announced in Level #39 with blinds running 17,500-35,000-3,500 where rkj88688 was holding Jh Jd and ABD17 had Qd Kh. Like many other tournaments, the pre-flop action saw a raise and re-raise match which ended up with both heads-up players going all-in. The board ran 2c Ah Qh 5s 9s which made a pair of Queens for ABD17, the title of Big Daddy and INR 96,500 for the win. Patel was eliminated at second place and took home INR 60,800.


---
---
Comments