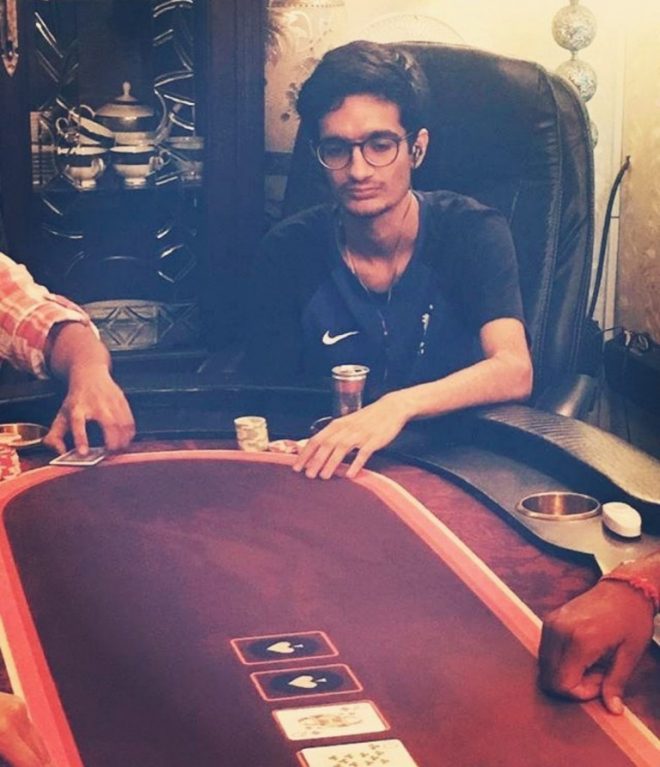 Poker
---
Devang Yadav is first Destiny 2.0 winner on Spartan
Destiny's first edition concluded last week with Sriharsha 'Indiandurrr' Doddapaneni claiming the first Destiny finale on 20 August at TheSpartanPoker.com. As mentioned by Spartan reps during their live coverage of the finale, the site will continue Destiny series going into 2018.
24-year old Devang 'ghadiyaal' Yadav is the latest winner claiming the first Destiny 2.0 edition tournament on Wednesday night. Yadav took home INR 4 Lakhs and an additional ticket worth INR 1 Lakh to the Destiny 2.0 SnG Finale which will be held on 29 October at 9:30 pm. He outlasted a total of 306 players who made a prizepool of INR 15,30,000 which was distributed to top 25 players with a min cash of INR 9,180.
Notable players who made it to the money were DeepStack Series Main Event winner 'bluffmenot' in 3rd place for INR 1,72,125, India Online Poker Championship (IOPC) July HighRoller winner Anuj 'aatmaan' Kodam at 5th place for INR 99,450, 2.o.K (Two of a Kind) winner Apoorv 'tankdonk' Bajpai at 7th place for INR 74,970.
Coming to the final hand, 'ghadiyaal' defeated 'SwamiHarami' in heads-up battle in Level #37 with blinds running 15,000-30,000-3,000. 'SwamiHarami' made a pre-flop shove with 3c Ad and 'ghadiyaal' calls with pockets Tens (Th Ts). The board ran 7h 9h 3h 9c 8h which gave a Ten high flush to 'ghadiyaal' and also the Destiny title.
Delhi based Devang 'ghadiyaal' Yadav is presently pursuing his Masters in Mechanical Engineering from IIT. Besides poker, he likes playing and watching football and also has a keen interest in photography and in solo traveling. In an email conversation, Yadav shares his life journey to the Destiny tournament. Here are the excerpts:-
How did you start on your poker journey? When did you first pick up the game?
It was my sophomore year at IIT where I was introduced to poker by my friends at my hostel. We started playing on a ?10 buy-in. Back then it was more for fun. I started watching a lot of stuff on YouTube – World Series of Poker (WSOP) coverage's, poker hands, cash games, documentaries and started reading blogs on and about the game.
When did you start playing poker for real money?
Gradually I shifted towards online poker. It was adda52.com where I started playing first on stakes of 5/10 and 10/20. Initially, I lost a bit online, since the game was different and real quick. It took time to acclimatise to the online scenario. After grinding a lot there I shifted up at higher stakes of 25/50 and 50/100 where I played for a couple of years. Meanwhile, I used to watch and study the game of other successful players and learn their strategies in certain spots, how they react to a situation, their c-betting percentages. This was the time when poker really took over me. I use to put in hours studying the game, making strategies, learning about concepts like equity, pot odds, ICM, reads etc.
Then finally in November 2014, I shipped my first major tournament. I came 2nd in 5L PMT on adda52 for a score of around 1L. But I was frustrated about the fact that I got crushed in heads-up by a seasoned player. It was then I realised that I've to get better at the shorthanded game as well and how it is a precious skill set to have especially in the tournament scenario.
Gradually after putting in hours at the tables and studying the game for months, (managing my studies on the side) I rise up the stakes to 50/100 and 100/200 where I play regularly now.
Recently in last couple of months I've final tabled many tournaments with notable scores – 2nd for 2.54L (Spartan Sunday Super Stack) on 4th July, 3rd for 1.92L (adda millions) on 14th August, 1st for 88K (DOPT 3L) on 21st August, 3rd for 55K ( DOPT 4L) on 22nd August, DPT MEGA SATTY for DPT July.
Lately, in the last couple of months, I've been really working on my tournament game and the results are showing. Majorly I play online with some live games here and there. DPT July was really my first experience of live Tournament.
Describe your journey through Destiny. Kindly give us details on some of the key hands.
I've played DESTINY 5 times now, and min cashed in a couple of them. This time I was very focused on making it big and to the final table. I played very tight at the early stages where I got the double up on AA>10s. We picked up few pots in good spots by three betting light. For most of the part, I was well inside top 10% of the field. It was only when final 8 were left we lost a massive pot A47 board on a flush draw VS AQ. I check raised all-in and got called. I was down to 5500 in chips with blinds at 8000/16000. Also I'd like to mention special thanks to Shrey Maheshwari, Sajal Gupta, Banmalang Lyndem and Prafull Hasbe for railing me during the Destiny.
Any particular turning points in the tournament where you felt that you could win it.
But as they say, ' ALL YOU NEED IS A CHIP AND A CHAIR ' we clawed our way back into the game on the back of 4 successive double ups. From less than one small blind we were back at a stack of 15 BB's where we doubled up again on AA VS 99. Villain opened, I just called on button hoping to set a trap. It was heads-up on the flop with 447 on the board. Villain bets half pot, I called. Turn was J, he checked – I bet small like a 20% pot bet, hoping to induce a bluff. He called. River bricked – a small card – he checked – I jammed for 50% of the pot and he snap called.
This was the turning point where I felt, I can actually ship it with seven remaining. I entered heads-up with a 1:2.5 chip deficit, but by constant pressure, we managed to make it 1:2. Then came a hand where we doubled up on a 7x 9x 4x Tx Tx board having 6x 8x against villain's Tx 8x. He called us all-in on turn after we had check raised the flop and bet the turn hitting our straight. Now having 2:1 chip lead, we wrapped it up by limp raising big on Ts on the button and he jammed on Ace-Three off. Ts held.
What are your future plans in the live and online space?
With poker scene in India evolving constantly and countless opportunities for us to showcase our talent and get rewarded for it is super exciting. I'd really like to thank Indian poker websites like TheSpartanPoker, Adda52 etc for helping the cause and making our experience such a good one.
What are 3 things about are interesting and many people don't know about it?
To stay focused in a long tournament I take the help of a mental coaching app called PRIMED by Fedor Holz. It has really helped me in building a good temperament and patience. Whenever I feel like I'm deviating from my strategy I snap myself with a rubber band – as a reminder to self on staying focused. I also like to listen to music while playing; helps clear out the surrounding clutter to keep myself in the zone.
---
---
Comments