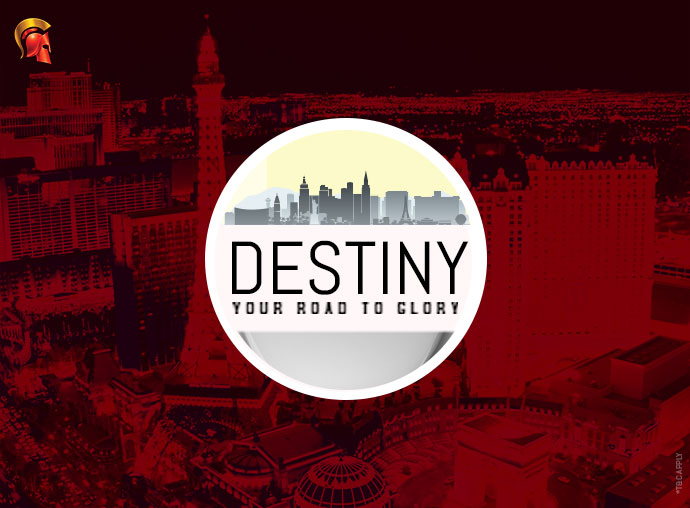 Poker
---
Destiny Winners Head to Vegas!
Destiny. It's a word that many Indians are well aware of. A word that both good and bad things are attributed to in this part of the world. But there is only good in this particular piece we are doing. For poker players though, Destiny has become synonymous with The Spartan Poker. The Destiny series on Spartan was a chance for players to take a shot at the biggest dream that every single poker player has and to do it at a fraction of the cost only adds to the drama of it all.
Hello Vegas!
The concept behind the Destiny series was to run a series of 10 weekly tournaments where one winner would emerge. This winner would be then join 9 other weekly winners to play in a Sit n Go tournament worth INR 10 Lakhs. Unlike the previous 10 weeks, this Finale SnG in Week 11 would be a winner-take-all situation. That Finale winner would claim a dream package that would take him to the poker capital of the world – Las Vegas to play in the biggest poker tournament and that's not all. This package would include return flight tickets to Vegas along with hotel stay for the duration of the tournament. There's potentially millions of dollars that could be won should this player win that coveted title. Scott Blumenstein from New Jersey won over $8.1 million dollars for claiming the title in 2017 and there is every reason to believe that this year's prize money would be as much or even more than that. Truly a moment of Destiny if an Indian player went on to win this spectacular tournament and be crowned World Champion. 
As we enter May, the countdown to the start of the World Series of Poker begins and there are plenty of Indian players who will be making the annual pilgrimage to a glitzy, shiny patch of desert in Nevada, USA. Some of these have been there before and have done the country proud with their performances. Considered by many as the torchbearer of Indian poker, Aditya Agarwal a.k.a Intervention is one of those players who has been visiting the WSOP for over a decade now. He's had a number of deep finishes including a career-best 71st place finish in 2015 Main Event ($96,445) which remains the best performance by an Indian player in the Main Event. His former mentee Aditya Sushant made India proud by claiming the country's first ever gold bracelet in the 2017 WSOP Tag Team Event along with compatriot Nipun Java. A shining moment indeed and there were unshed tears in the eyes of many an Indian attendee at that award ceremony with the tricolour on Sushant's shoulders and the national anthem being played in the arena. 
So this is more than just another global poker tournament. This is where legends are born and certainly for our domestic poker scene which is growing every day, it is a matter of great encouragement for a player to do well for themselves on the global stage. This past year The Spartan Poker paved the way for many a player to try and achieve their dream of being a part of poker's biggest spectacle. There have been four editions of the Destiny series in the past year which means four winners heading to the US. In the run-up to this big event, we thought we'd take a look at these Destiny winners who will be heading to Las Vegas this summer to perhaps fulfill their ultimate poker destiny:-
Winner of Destiny 1.0 – Mayank 'mackmacksmack' Makhija
Prior to moving back to India and setting himself up in the manufacturing industry, Mayank Makhija lived in the US from 2006–2016. He completed his education and even worked on his business during this period. He has played in a number of live events finishing deep in many of them and generally prefers live tournaments over online. That said, he managed to win his Destiny SnG on the back of just one buy-in. It is unclear whether Makhija is heading to Las Vegas but if if he does, he will certainly be eyeing poker's most coveted title.
Winner of Destiny 2.0 – Sriharsha 'Indiandurrr' Doddapaneni
One of the more prolific players on the domestic poker scene, Sriharsha Doddapaneni has had numerous deep runs and titles in both online and live formats. His most recent live title win was the 200k Super Highroller at the recently concluded Deltin Poker Tournament (DPT). Outlasting 37 players, Doddapaneni made his best ever live score of INR 28.5 Lakhs for his efforts. This win came close on the back of his 3rd place finish in yet another Highroller tournament i.e. April's Baadshah Gaming Live series. He will hoping to carry on this form to Las Vegas when he competes at the most famous poker tournament in the world. 
Doddapaneni is well aware that he needs to be in top form game-wise and health-wise in order to do well in the Main Event. He met with WSOP Main Event winner Martin Jacobson at an international poker trip a while back who inspired him to take care of his physical fitness.  The Vegas trip will have Doddapaneni with some company in the form of his wide and a few friends who are there for a holiday. He hopes to enjoy his time away from the tables with his spouse and friends and take in the local sights. While he will be there primarily for the tournaments, he is not averse to getting some action at the cash tables as well, "I was little skeptical about playing live cash but I did extremely well on a recent trip to Macau. Surely, the focus will be on tournaments as I enjoy playing them but if time permits and if I am not exhausted, will try to make some money in cash as well.There are many other big series in other casinos happening in Vegas during the World Series." 
He is feeling confident with his recent form and is laser locked on his mission at Las Vegas, "Just the World Series of Poker (WSOP) and nothing else on my mind. I believe I am relatively less spewy off the poker tables, so will be directing all my energy to get second WSOP bracelet for India." 
Winner of Destiny 3.0 – 'shark attack'
We have limited information about this player however should he or she go on to do well at the Main Event, it will be a feather in the cap of this player and indeed the country too.
Winner of Destiny 4.0 – Kranthi 'Milds' Kiran
Las Vegas will not be a new experience for Kranthi Kiran who has visited the poker capital of the world a couple of years back, "That experience will be of big help during the preparation. I will dedicate most of my time getting better at MTTs." He too is well aware of the grind taking a toll on one's health and like Doddapaneni is also going to work on his fitness ahead of the series, "You need to be fit and healthy to survive that long a grind." Kiran's background is primarily of a cash game player however this Destiny package affords him the luxury of getting into every poker player's most coveted tournament. With potentially millions of dollars at stake, he plans to study and play MTTs for the majority time in the next few months leading up to his US trip. But poker is not all he will partake in on this trip. There are travel plans to visit other parts of the US as well Canada during this trip as well Vegas itself, "Las Vegas is an awesome place to go on a trip. I am going to visit the places that I missed during my last trip."

From a poker perspective, Kiran also intends to hit many of the other big series which will be taking place around the same time as the World Series. While he hasn't planned on his exact schedule yet, chances are that many of the top value events which take place in places like the Venetian, Planet Hollywood, Bellagio and Aria will be on his list. 
Keep reading GutshotMagazine.com for updates on major Indian and international poker tournaments.
---
---
Comments