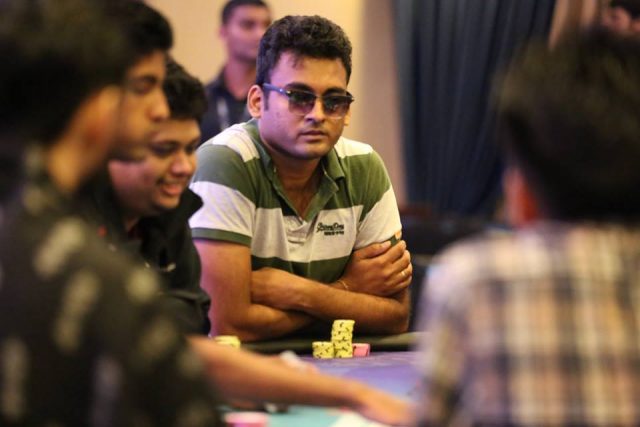 Poker
---
Deepak Bothra is Sixth Destiny 2.0 Winner on Spartan
The sixth week of Destiny series saw Pune-based Deepak 'chimpoo' Bothra emerge victorious after defeating 'PETRICHOR' in headsup battle. Bothra shipped the tournament for INR 4,00,000 plus an INR 1,00,000 worth ticket to the Destiny SnG Finale which is scheduled on 29 October at 9:30 PM. Bothra outlasted 333 entries that generated a prizepool of INR 16,65,000 from which the top 25 players were paid out; min cash being INR 9,900.
The winner was announced at Level #43 with blinds running 18,000-36,000-4,500. Pre-flop action saw a raise and re-raise match at the end of which all chips went in from both heads-up players. 'chimpoo' holding Qh Ah and 'PETRICHOR' had Ks Ts. The board ran Qs As 8d Qc Kh which gave a full house, Queens full of Aces to 'chimpoo'. 'PETRICHOR' was eliminated in the second place for INR 2,70,563.
Gutshot spoke to the champion in an email interview and here are the excerpts:
Congratulations Deepak! Please tell us a bit about yourself.
I am a chartered accountant and MBA from IIM Indore. Always an average student in school and college days but loved math and numbers which I believe has helped me throughout my career be it doing CA or getting admission into IIM or doing well in poker.
How did you start on your poker journey?
I learnt poker during my MBA days back in 2009-11 and played it a lot then. In my initial days I played mostly INR 50 buy-in tournaments and freerolls on PokerStars.
When did you start playing poker for real money?
I made couple of trips to Goa with my friend just to grind and play home games in PokerStars and did really well. Those trips helped me to build a decent bankroll and at that time the Indian online poker scene was also picking up. Deposited INR 500 in one of the Indian sites in September 2013 and never looked back from there. What stands out in my career is sound bank roll management, tilt absence and desire to learn. Would advise same to new poker players; as they say it is hard way to make easy money.
Tell us about your start in live poker tournaments.
My live poker tournaments began with India Poker Championship where I finished ITM in of the tournaments in February 2016. I did really well in the last two Deltin Poker Tournaments where I shipped a tag team event with Spartan's first Millionaire Manoj Pentakota. I finished second in Bounty event and fifth in Kickoff event.
Describe your journey through Destiny. Any key hands?
It was pretty swingy throughout. Got a beat where KK lost to QQ in a pre-flop all-in for the chip lead pot. But right after I gave a beat immediately with QQ>KK again a pre-flop all-in to survive in tournament. At one point where around 90-100 people left I was down to 15 BBs, got lucky in one hand AJ>QQ and won couple of big hands and had good stack when I was near ITM.
Any particular turning points in the tournament?
When there were two tables left, although I was 5 or 6 out of 16 left, I was feeling really confident to ship the tournament. Got a massive double up when 4 people left and was chipleader, got lucky heads up AJ>JJ and hit ace on flop and left the pre-flop favourite hand with a one outer and then finally nailed it with AQ>K10.
What do you plan to do with this money?
Well, nothing special. Big wins helps to cover the inherent variance poker game has.
What are your future plans in the live and online space?
Just got blessed with a baby girl and not getting enough time to play and am very selective in playing tournaments. Normally I play only on some Saturdays and Sundays. Nishant 'DoJingBULLETS' Sharma called me and insisted to play such high value tournament. Went real deep in Spartan Super Series PLO HighRoller and Main Event (where I finished ITM). I will be more regular after 6 months probably. Hopefully will be able to travel for World Poker Tour, India.
Your feedback on The Spartan Poker?
TheSpartanPoker has really picked up the tournament poker scene in India. Now we don't really have to necessarily look at PokerStars for big guaranteed tournament. It is unbelievable how it is able to conduct such high guarantee tournaments week after week. Keep it up TheSpartanPoker.
Deepak Bothra is the sixth Destiny winner and four more Destiny tournaments remain to be completed before we head into the 10 man SnG Finale. Who will it be??
Stay tuned to GutshotMagazine.com for other stories.
---
---
Comments