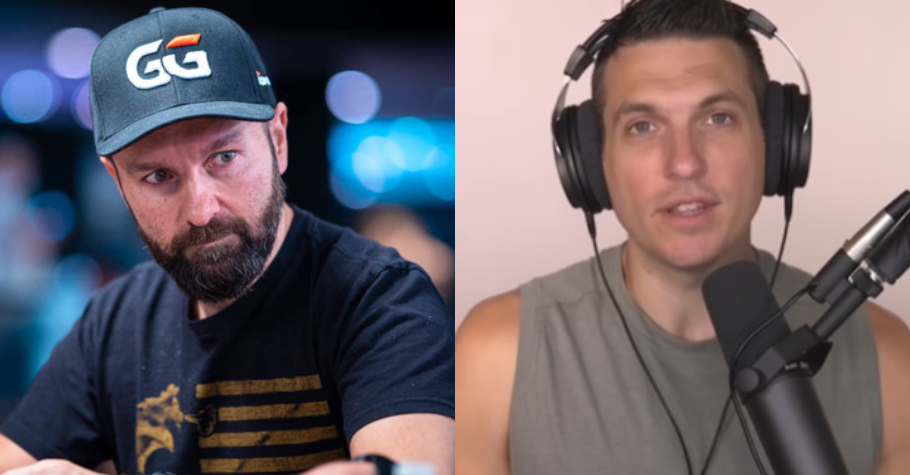 Poker
---
Daniel Negreanu HITS Back As Doug Polk Plays Sick Son Of A B*tch
What does it take to be a perfect 'son of a b*tch?' One should ask Doug Polk. Ever since the so-called scandal broke, Polk has been milking the situation to the fullest for his benefit! Sharing posts on social media, releasing a video, Polk left no stone unturned when it came to propagating his agenda—Garrett Adelstein got cheated 100% (only in Polk's head). The three-time World Series of Poker (WSOP) bracelet winner did not stop his wild attacks on Lew and made her look like a criminal just because she played in a way that wasn't acceptable to him and Adelstein.
Since the outcome of the J4o hand came to light, the poker world felt what the Stranger Things characters felt—befuddlement and not of an easy kind. But Polk took this incident to a whole new level when he threw in his toxic thoughts against Lew and made her opponent look like a total victim.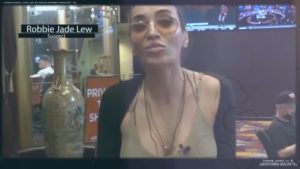 Polk, the expert vlogger that he's become, explicitly talks about how Lew had to be cheating (based on his horseshit-like thoughts) and stated how her story did not add up. Not once in his 'New evidence in poker cheating scandal…' video does he try to present an unbiased view of things let alone understand that a high-stakes newbie like Lew could have made a hero call if not a silly mistake. The pot stood at a starry figure of $269K and that was no joke! The bigger joke in this situation is how in the name of presenting facts and investigating, Polk dives deep to bring out the good ol' MCP in him.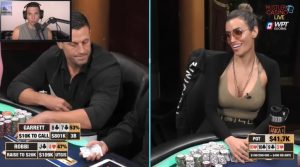 Firstly, the Upswing Poker founder just cannot digest the fact that a male pro (a rather established one) lost to a relatively lesser known female player in a pot that massive. Secondly, Polk further cements his cheating allegations based on a chair Lew sat on. He states in his widely publicized video how the chair vibrated which accounts for cheating (this guy makes for the worst detective), totally ignoring how Lew was actually tapping her foot pretty visibly which could result in her chair moving. 
Polk never stops ridiculing Lew's play not just in that shocking hand but even the ones she played before. The poker pro keeps on ranting how Lew's play was suspicious and hints at her being stupid for the moves she made. There's a whole army of users on Twitter who saw through Polk's bullsh*t and shared their thoughts which legit countered the 2017 WSOP High Roller for One Drop (Event #6) winner's crappy so-called analysis. 
ALSO READ: Garrett Adelstein Avenges Dylan Gang's Slow Roll
Doug Polk's video on Robbi Lew's alleged cheating
Polk tried his best to show how Lew was a cheater (for the umpteenth time) without any hard evidence and conveniently stating that nobody in the poker universe would have made that call with a J-high hand. Not sure who made Polk the judge and jury, but in a bid to make Adelstein look like the poor, watery-eyed pro who lost a HUGE pot that shocked the world, Polk ended up looking like a moron high on misogyny.
Towards the end of the video, Polk cried out loud for once being cheated which honestly didn't help the case he was investigating (more like looking for ways to blame Lew) and rather made him look like that scrappy lawyer of Amber Heard. Anyone with a sane mind would look into both sides of the story but Polk fails miserably on that front. Adelstein being the sour loser that he was, took the money back and yet shamelessly called Lew a cheater. 
We wonder and one should wonder, if a high-stakes reg like Adelstein would have done the same against a male pro or even a recreational male player in that hand with the same outcome. The sly attacks on Lew made by Polk including him stating that it was a 90% case of cheating, did not resonate with a whole lot of people, who Polk dismisses by saying they never played poker and nor should they have an opinion about the incident. But sadly for Polk, one among the supporters of Lew is Daniel Negreanu—six-time WSOP bracelet winner. If these bracelets were proof of credibility then clearly DNegs got more than Polk.
'kidPoker' from the moment the story / scandal broke has been stating that Lew made a hero call which may be perplexing to many (including Polk), does not prove Lew's guilt. Adelstein looked like he had a 'brain fart' moment when he stated in his Twitter post that Lew giving him money back was hinting at her guilt. 
Daniel Negreanu says it like it is
More than anything else the Twitterati was convinced that Lew read her rival like a book who got his ass beaten with just a J-high. Negreanu, who was once at loggerheads with Polk, clearly stated how he's played against opponents who made bizarre calls. Sure, we all can go bonkers on seeing Lew's play, but calling her a cheater on a public forum with no admissible proof is outrageous. This point was particularly brought up by DNegs when he spoke about Lew's husband being an attorney and how he would happily sue those making unsubstantiated remarks defaming his wife (friendly advice to Polk—get a lawyer ASAP). 
The GGPoker ambassador spoke on the cheating scandal (clearly instigated by the likes of Adelstein and Polk), that there are many elements that prove Lew wasn't cheating, backing up the Twitter posts he made since the day this bombshell hand was played. 
ALSO READ: Daniel Negreanu's HOT Take On Robbi-Garrett ICE COLD Revenge Saga
Getting into a woman's pants
This happened not in a way one would imagine. DNegs posted a picture of the pants worn by Lew in an esoteric post. Why esoteric? Well, read ahead and you will know why. The post showed the kind of pants Lew wore during the hand only in a different colour.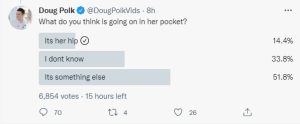 The Canadian pro stresses on the fact that there were no pockets to conceal a device but only thick lines that ran down to the bottom. Lew took no time and shared a picture of the actual black version of the pants and cheekily termed them infamous. This female player who rocked Adelstein's boat in a way he never f*cking imagined thanked Negreanu for putting some sense out there about those speculating on Lew's pants (first the chair and now the pants).   
Doug Polk on Robbi Lew hiding something
Robbi Lew's pants
Robbi Lew's unconventional play
Sam Grafton who recently shipped the $200K Coin Rivet Invitational for $5.5 Million at Triton Poker series came out in Lew's defense. He shared a post on Lew's unorthodox playing style. Grafton wrote, "At the 2021 WSOP I played with Robbie in the 1500 Shootout. We played a long heads up until 10pm. She did insanely unconventional things, obviously it's not proof, but this footage where she's flustered and can't explain her thinking chimes with my experience." 
Not far behind was Matt Glantz who ripped Adelstein's accusations against Lew apart like a cold-blooded assassin. He wrote in his Twitter post, "She thought she had J3. She feels men are always trying to run her over & she's dying make big calls. She was embarrassed she actually had J4 & told nonsensical fibs in an attempt to cover up an innocent mistake. If she had turned over J3, Garrett would have said nice hand." (sic) 
For Lew, Glantz was godsend as she replied saying, "Nailed it." The drama will not end anytime soon, as limelight thirsty folks (like Polk among others) look to cash in on the matter. 
The high-stakes newbie (that's how haters who thrashed Lew think of her) wrote in her Twitter post that if one more time she hears the word 'suss' she will change her side of the story, at least five more times. Finally, it was time when Lew shot back at those who had nothing concrete in hand to prove her crime other than the fact that she changed her story multiple times.
The world by now knows that Polk isn't taking it down. For some unfathomable reason he is hell bent on proving Lew is a cheater. We hope that Polk knows that his video and tweets have it in spades that he is biased and horribly justifying his myopic view of things in the Lew-Adelstein hand. 
Polk also took a dig at Lew's poker coach Faraz Jaka. Polk in a very entitled asshol* like manner replied to Jaka's tweet by saying, "If your student is willing to put in 130k with J4 on TT93 perhaps you might want to change the course curriculum." 
Was this the end of Polk's savagery? Nah! Not in the slightest. He shared a post stating how people have blamed him for everything going wrong on this planet (burning crops and poisoning water holes included) and how the Lew-Adelstein incident was the obvious moment to prove his righteousness (feel like saying cut the crap here but let's move ahead).
Twitterati calls out Doug Polk
There's ample of this on the micro-blogging site and god knows that somewhere Negreanu is relieved that people do use their common sense and question Polk's skulduggery. For those who back Lew, users calling out Polk (the pro with zero WSOP rings and zero logic) was a 'praise the lord' moment. 
Many wanted the Upswing Poker founder to cut Lew some slack, but Polk never gave up on his relentless search for truth which he hasn't found yet. He even countered DNegs when the latter shared a photo of the type of pants Lew wore that day. Polk was hinting that there was some device hidden underneath to make her win (if only it was that easy she would have done so at a WSOP event).
For those who missed it, Polk was a trending hot topic on Twitter. Looks like he got what he wanted—15 minutes of fame. But this limelight came at someone else's cost which is nothing short of pathetic. Many pros like Negreanu came out to back Lew not because she was lacking support, but more because she played a hand fair square under live cameras. 

If Adelstein wanted to play a sour loser, he's done that part brilliantly, but the one's like Polk, seriously need to take a step back from being self-righteous pricks. For those seeking justice, Hustler Casino Live issued a statement which says they will investigate the matter even to the extent of conducting polygraph tests. And as for Polk, dude, take a chill pill or any other that will calm your soul down real quick!
For more news and updates, keep reading Gutshot Magazine. Follow us on our social handles Facebook, Twitter, Instagram, and Telegram.
Image Credit for Daniel Negreanu: Spenser Sembrat
Video Credits: Daniel Negreanu and Doug Polk YouTube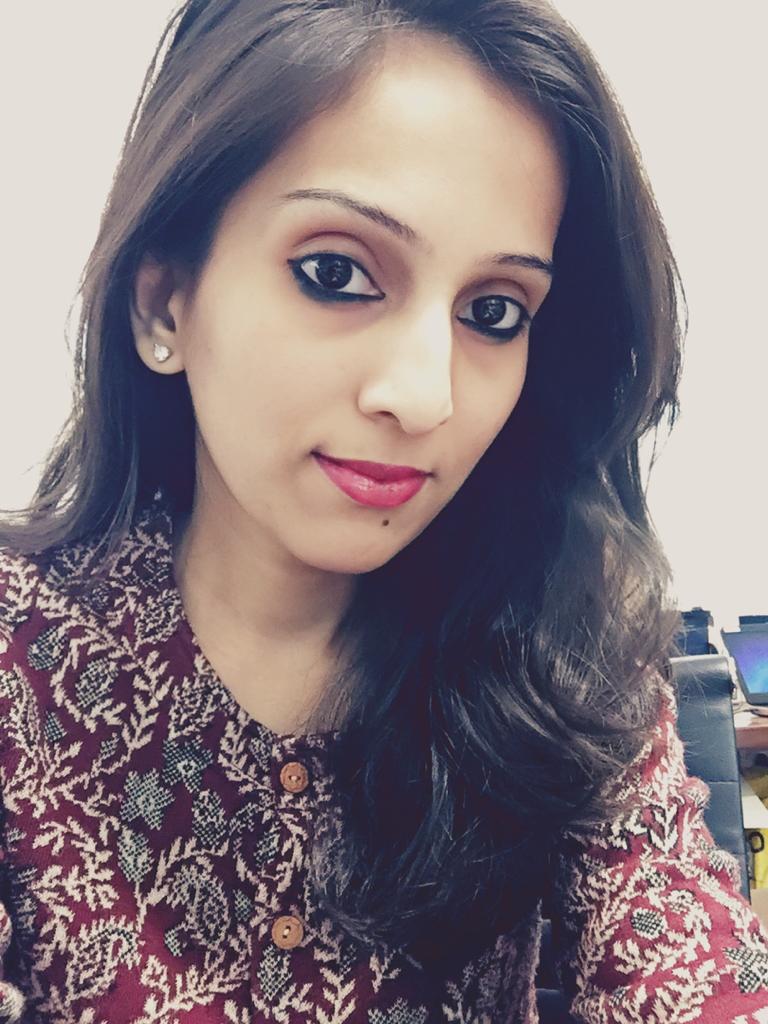 With a Masters Degree in Journalism and Communication, Mrinal Gujare currently is cruising through an exciting genre of writing and editing at Gutshot Magazine. Apart from being an Editor, Mrinal is an avid reader and a former contemporary dancer. She is also perennially hungry for intriguing scoops from across the globe. No holds barred is the rule Mrinal follows in life.
---
---
More News
---
Comments