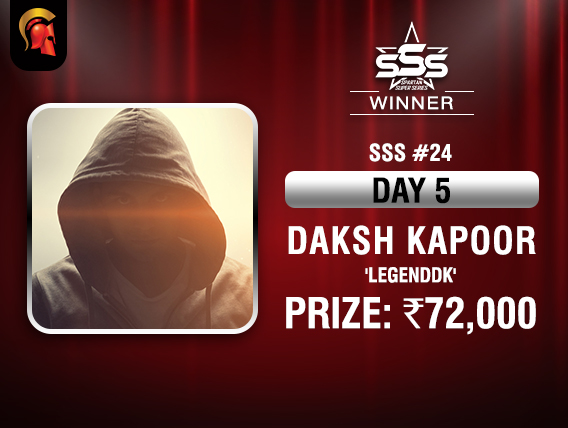 Poker
---
Daksh Kapoor among title winners on SSS Day 5
SSS Event #23 INR 1.5 Lakh GTD
INR 550 was the buy-in set for the first tournament of the day which attracted a field of 322 entries. The top 27 of these players were paid out from the new prize pool of INR 1.61 Lakh, each receiving a minimum of INR 1,610. The winner of this tournament turned out to be 'ferrari_owner' who bagged INR 35,662 for finishing first. The final hand was an interesting one as ferrari_owner slow played his Fives even though he completed a set on the flop. He improved to Four of a Kind on the turn and finally shoved on the river to get a call from 'The Sitting Duck', who had two pairs. The runner-up bagged INR 24,070 for this finish.
SSS Event #24 Kick-OFF INR 3 Lakh GTD
The re-entry tournament had a buy-in of INR 1,100 and Daksh Kapoor aka 'LegendDK' bested a field of 300 entries to take down this tournament. Only the top 20 places were paid out here, each receiving a minimum of INR 4,020 and Kapoor bagged the biggest prize of INR 72,000 for winning this SSS tournament. His heads-up opponent 'luv anand' shoved all-in pre-flop with Qd Th in the final hand and Kapoor made the call with 8s Js only to hit a pair of Eights on the flop itself. Turns out, that was enough to win him the tournament as the runner-up bagged INR 48,900 for this effort.
SSS Event #25 INR 1.5 Lakh GTD
The knockout tournament hit 250 entries, each paying the buy-in of INR 660 to participate. The top 27 places were paid a min-cash of INR 1,500 and from them, 'Queen1987' outlasted the field to bag the top prize of INR 33,225. The tournament came to an end after he/she beat 'uncle_scrooge' in heads-up, who received a prize of INR 22,425 for finishing second. It was Sevens against Twos in the final hand to go with a pair of Sixes on the board which won Queen1987 the tournament.
SSS Event #26 WTF (Who's the Five?)
Here was a slightly newer tournament offering where not one, but five players would end victorious in the fourth tournament of the day on Spartan Poker. Each entry paid the buy-in of INR 2,200 and eventually, the top 25 players were paid out INR 5,840 each. However, the top five all received same pay-outs of INR 1,00,000 EACH. The tournament ended when 5-way play was arrived at, and the winners included 'SwedhaSingh', Pranjal Gandhi aka 'lilmessipranjal', 'OrangeZuce', Aditya Bahl aka 'addyb', and 'piscean'. The last hand saw SwedhaSingh eliminating 'YourWhaleness' in 6th place, following which everyone was declared a winner.
SSS Event #27 – The Elite INR 22 Lakh GTD
This was the biggest one of the night on Spartan. Played in the popular 6-Max format, Elite is one for the pros and those who know their game of poker very well. With a buy-in of INR 11,000, a field of 274 entries registered to the tournament to create a new and inflated prize pool of INR 27.4 Lakh. This was then divided among the top 27 places with the min-cash being INR 27,400. However, for those who managed to grind long and hard and stick it out till the end, big prizes were guaranteed. The winner 'blindgame' had his A-game on as he topped the field for a bankroll addition of INR 6,06,910. He preferred to stay unnamed but the runner-up Ujjwal Narwal is a well-known player, being rewarded with INR 4,09,630 for finishing as runner-up.
SSS Event #28 Hi-Fi INR 4 Lakh GTD
This tournament is easily one of the most popular ones on Spartan Poker, almost always smashing the guarantee. Last night too, 351 entries paid INR 1,650 each to take the prize pool up to INR 5,26,500. This was then distributed among the top 31 players with a prize of at least INR 4,633. 'BossBaby3' emerged champion of Hi-Fi on SSS Day 5 and bagged INR 1,11,355 as prize money after beating 'ChipTricks' in heads-up. TT88 beat a pair of Tens in the final hand as ChipTricks had to settle for INR 74,974 for finishing second.
For more updates on the top poker tournaments in India and around the world, stay tuned to GutshotMagazine.com.
Don't have an account on The Spartan Poker? Check out their review page here, and don't miss out on their bonuses, promotions, and guarantee-smashing tournaments. Sign-up now.
---
---
Comments