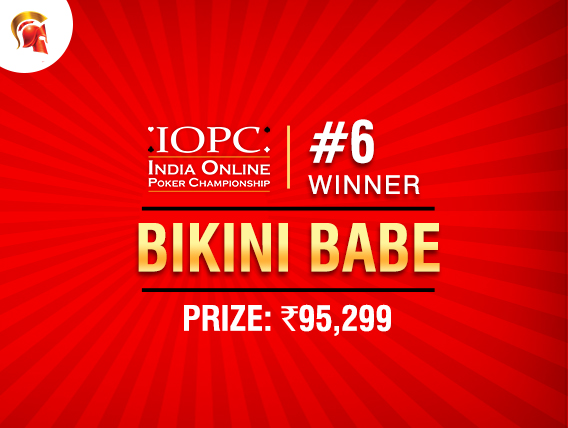 Poker
---
Bikini Babe wins IOPC Event #6
Day 2 of the India Online Poker Championship (IOPC) at The Spartan Poker brought forth a new set of tournaments for the day and the opening event of the day was won by 'Bikini Babe'. 
The IOPC was off to a good start yesterday with all five events on schedule going well part their guarantees and in some cases even crushing it. So with the start of the weekend, it was expected that Saturday's tournaments too would see good turnouts and Event #6 did not disappoint. The 3 Lakh GTD tourney had a buy-in of INR 550 and followed a re-entry format. That made is 470 total entries by the end of late registrations pulling in a prizepool of INR INR 4,92,500 so truly crushing the original guarantee. 63 of the top finishers were assured a payday with a min-cash of INR 2,142 going to all money finishers. 
It took almost exact 7 hours for the tourney to culminate with some familiar names coming through onto the final table of this opening event. One of consistent online regs in Bhanu Prakash a.k.a 'spectre' made a mark in this tourney finishing in 7th palce for a score of INR 15,809. Yesterday's IOPC event Event #2 winner Prince 'DeadEmotions' Singh was looking to add yet another title to his kitty but ultimately was knocked out in 5th place for INR 26,841. His elimination kicked off a bit of domino effect as the next two eliminations took place in a matter of two hands with Bikini Babe claiming both victims in 4th place finisher 'dvaio' whose pair of Sixes were not good enough for the King high flush of the former. In the very next hand, we saw the elimination of '_ITM_' at the hands of a pair of Queens which brought us to headsup between 'cheapthrills83' and Bikini Babe.
Unlike the previous quick eliminations heads-up battle between these two went on for a while with Bikini Babe (5.4 million) firmly holding the lead over cheapthrills83's 2.4 million stack. Several pots were traded back and forth before before we can on the hand which decided the tournament. With blinds at 35,000/70,000 ante 8,750, Bikini Babe raised to 180k and that made cheapthrills83 move all-in with his suited Jh 9h. Unfortunately for him, Bikini Babe had pocket rockets (Ad Ac) and with nothing untoward on a board of 8s 4c 5d 9d 8c, that hand gave the pot and title to Bikini Babe who made a sum of INR 95,298 for the win while cheapthrills83 settled for his second place prize of INR 60,085.

---
---
Comments