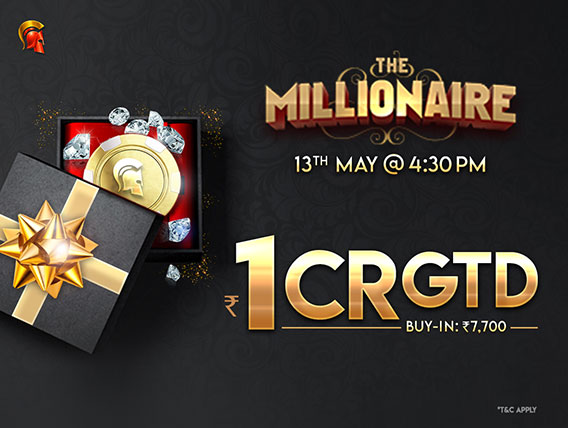 Poker
---
Become a Millionaire this Sunday at Spartan
We are just a matter of hours away from one of the biggest days of the month in Indian online poker. The Millionaire has been The Spartan Poker's signature tournament for over a year now and has shown significant growth in the past 20 months of its existence. While players were understandably ecstatic on hearing of a high value tournament like the Millionaire, their joys doubled very quickly. In a matter of a few months, the guaranteed 10 Lakhs to first place became 20 Lakhs! The next jump up was when Spartan announced that two Millionaires would crowned now with second place finisher being assured a sum of 10 Lakhs. Late last year the Millionaire made a change to guaranteeing the overall prizepool of INR 1 Crore!
This Sunday it's your turn to take a shot at one of India's most beloved online tournaments where you can win a potentially life-changing prize. Ever since The Spartan Poker has announced the INR 1 Crore edition of the Millionaire, the average first and second place prizes have been closer to 25 Lakhs and 15 Lakhs respectively. Now that's the kind of amount that can really set up your online bankroll. Manoj Pentakota was the inaugural winner of the Millionaire back in September 2016 and in the time since then has shown that his performance was no flash in the pan. Pentakota has won many titles and made several deep scores on Spartan and other websites across various tournaments and series. "It is and always will be special moment for me," said the 20-something Pentakota who is based in Vishakhapatnam in Andhra Pradesh. When asked about the key difference in the Millionaire edition he won and the tournament as it is, Pentakota displayed his sense of humour by saying, "Only change I see is me having not shipped it again!"
Shipping a Millionaire title has almost invariably catapulted that player into the limelight and winning two would certainly be a momentous occasion for a player. Kolkata-based Vikash Khaitan came really close to doing just that. Technically speaking he is a Millionaire twice over with his title win in July 2017 followed by a runner-up finish in September the same year. Khaitan, who has courted a fair amount of controversy online for his approach to the game and style of play, does not allow these things to disrupt his focus. His 'Live and Let Live' philosophy is holding him in good stead as he continues to have investors who believe in his style and are willing to back him to make another big score.
Mayank Jaggi won his Millionaire title in December last year and has been determined in his pursuit of becoming a better player. He took up membership on poker coaching sites like RunItOnce and Upswing Poker and even joined a poker coaching stable. The results have been coming in with all these efforts going in on his part. Jaggi, along with many other Indian player, will be making the annual pilgrimage to the poker capital of the world Las Vegas, this summer to participate in the World Series of Poker. While the WSOP goes on for a little over 2 months, Jaggi's US trip will be about 20 days. Aside from the Millionaire title, Jaggi also took down the prestigious Super Highroller event at the India Online Poker Championship back in January. When asked by Gutshot what was the bigger challenge –  bigger buy-in events or facing bigger fields, he had this to say, "I suppose in bigger fields variance plays a big role while in bigger buy-in events, the structures are deep so its majorly the quality of players that is a bigger challenge. But I still feel its difficult to win in bigger fields…" 
Young Samay Modi from Mumbai is another Millionaire winner we spoke to about his experience at this top value event over the last couple of years, "Personally, I haven't seen many changes except some to the structure which is alright. However I still believe The Millionaire to be an extremely high value tournament that everyone should play because of the opportunity it gives to make just so much money." Modi too is one of the Indian contingent who is heading to the World Series this year and is working hard in the run-up to his Vegas trip. He has also subscribed to some online training methods which he has found to be useful in the past. Whether its a live tournament or a big ticket tournament like the Millionaire, Modi is clear about his approach " It's important to have your mental game strong while approaching tournaments, to maintain your cool on bad beats and understand how to play different stacks differently. I like to keep myself well rested so I have focus at all times as one small mistake in a tournament can mean the end of it."
The next edition of the Millionaire takes place this Sunday at 4:30pm exclusively at TheSpartanPoker.com and if you still haven't signed up, you can kickstart your journey to becoming a Millionaire by creating a Spartan account HERE using the code 'GUTSHOT' during signup. Remember you get a free bankroll of INR 100 if you use this GUTSHOT code. And here's another way you can get a double benefit is by making a deposit for this Sunday's Millionaire which has a buy-in of INR 7,700. Use the code 'FREE10L' while making this deposit and get into the INR 10 Lakhs Freeroll being held on 20 May at The Spartan Poker.

---
---
Comments