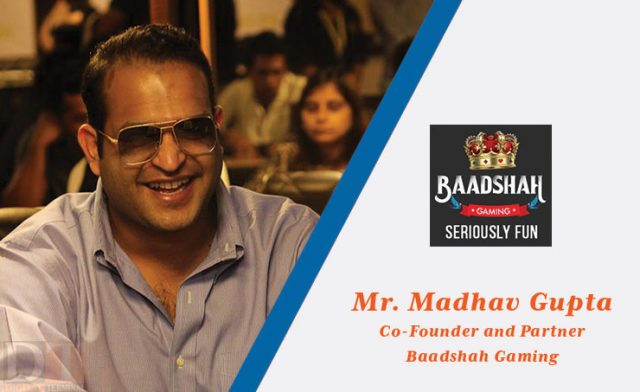 Gaming
---
Baadshah Gaming Live from 7-10 Dec in Goa
Earlier this year (July 2017), Casino Pride Group purchased a 30% stake in OceanKing Software Solutions LLP, a Mumbai-based company that owns and operates Baadshah Gaming, an online gaming startup company. Baadshah Gaming was co-founded by Madhav Gupta, a poker player who has been operating the poker room in Casino Pride for several years now.
As soon as this stake was purchased, ideas of 'Baadshah Gaming Live' were announced – a live poker tournament to be hosted within Goa's famous casino, Casino Pride. Now, that tournament is finally set to kick off and its inaugural season will be hosted between 7th and 10th of December, 2017.
[ays_poll id=5]
Baadshah Gaming boasts of over 50 combined years of gaming experience and Madhav was the mastermind behind Baadshah Gaming Live. He wanted to have this tournament in September, but they weren't ready and had to postpone for a few months. The poker room in Casino Pride was renamed to Baadshah Gaming Live and the entire deck on-board Casino Pride was rebuilt, to facilitate this open-air poker tournament.
The partnership of these two companies (Baadshah & Casino Pride) was strategically done to venture into the 'click and mortar' business model (both online and offline operations). While the tournament will be held in the poker room, the satellites were hosted on the Baadshah gaming website. PS. All participants must have a verified Baadshah Gaming Account.
Here's the Baadshah Gaming Live tournament schedule:
7th Dec: Warm up (INR 10,000 buy-in; 7 lakh GTD)
8th Dec: 10k + 5k Bounty Event (INR 15,000 buy-in; 7 lakh GTD)
9th Dec: 2-day Main Event (INR 30,000 buy-in; 30 lakh GTD)
10th Dec: 5k Rebuy/Add-on (INR 5,000 buy-in; 7 lakh GTD)
Gutshot caught up with Madhav Gupta, the man behind Baadshah Gaming, and this is what he had to say:
Why did you decide to host a live event?
We've been waiting a while to host a live event at Pride Poker. I've worked here for the last 9 years and we've had a few operators come on board, but they weren't offering much additional value. Also, with players having to pay around 40% taxation (TDS and rake), it stopped making economic sense, and that's why we haven't hosted a tournament in a couple of years at Casino Pride.
Now, Baadshah Gaming Live is partnered with Pride so it's the right time to showcase that we are one of just a few sites that aren't only websites, but a 'click and mortar' business. We want to reduce the burden on the players; there's not much we can do about the government taxation, but we're rake free and that should help. Even when it comes to TDS, we're the only ones in India so far to offer a net TDS effect across all events (entire tournament fees considered as a single event). These are some things that should help players. 
What is the response you are expecting from this tournament that starts tomorrow?
There's no way to predict what the exact numbers will be but we're expecting a fairly good response, having done everything we could from the marketing perspective. The game of poker in India was a lot more enjoyable earlier. We understand that poker is a serious game, but it's the elements around the game that we want to make fun again, hence bringing back the seven deuce bonus, and funny costumes/props; basically, trying to make the game more interesting and exciting.
The top poker players have an inner circle, but the bottom of the pyramid (new players/small stake players) doesn't. We called ten top pros from across the country to interact with smaller stake players in the pro seminar we will have during the event; this interaction is what is needed for the game to grow in the long term.
We've kept the tournament to smaller buy-ins, with the idea of offering a sustainable and economically priced package, wherein smaller stake players can participate in multiple events, and also experience the fun, excitement and fame involved in winning events. Hoping for a good response. 
Can you explain to us the future plans of Baadshah Gaming & Baadshah Gaming Live?
We are a firm with live and online businesses across platforms like poker, fantasy cricket and rummy. Rummy was in Beta until recently, but is now out for launch. The tech costs are fairly low in the online space and that is why we see the advent of so many new poker and gaming sites, but most of them come and go. In the next 28-36 month period, we predict some consolidation and the industry moving to basic economic principles of having 3-4 players in each category. 
We realized that liquidity is one of the big differentiators. Also, credibility is very crucial. We aren't just another web address but are now part of a larger organization that has over 4,000 employees. We have a 10-15 year vision and that is to become India's most transparent gaming firm. The idea of live gaming is a big part of that and we are thus in the process of tying up with a bunch of other live rooms too.
Our goal in the next 18 months is to have 20 rooms across the country. Of course, poker will be restricted to a few states but live rummy will be a focus in the other states. We mainly aim at having a touch and feel to the business, and not being just a web address. The situation is good at the moment, so we're starting to push out our plans now.
---
---
Comments