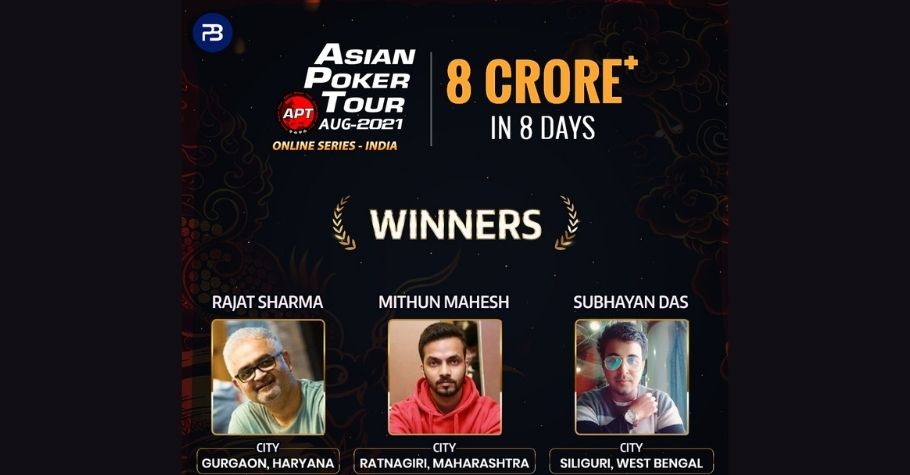 Poker
---
Asian Poker Tour Online Series- India Concludes On A High Note, With Participation From Over 25000 Highly Skilled Poker Players
Taking the poker scenario a notch higher in the country, Baazi Games, India's renowned gaming tech group, concluded the second season of the Asian Poker Tour online in India. Hosted on Pokerbaazi.com, the eight-day long online tournament series started on August 1st and concluded on August 8th. The series witnessed the entry of 25,606 talented poker players from across the country where the winners took home a massive prize pool of more than INR 8 crores.
Along with cash prizes, the Asian Poker Tour awarded 10 trophies, 3 championship rings and a luxury watch as well as various other accolades to establish the Indian players as some of the best in Asia. The top three winners were Mr Rajat Sharma from Gurgaon, Haryana (Super Highroller Event), Mr Mithun Mahesh from Ratnagiri, Maharashtra (Highroller Event) and Mr Subhayan Das from Siliguri, West Bengal (Main Event). The three ultimate poker pros emerged victorious through their laser target strategy and mental fortitude.
Additionally, Mr Vinay Rajpal, Mr Aman Parakh and Mr Bhanu Prakash emerged as the series Leaderboard winners and were recognized as standout players in the region. The Leaderboard winners took home the 'Player of the Series Trophy', Championship Ring and a Luxury Watch.
Commenting on the success of the Asian Poker Tour, Mr Navkiran Singh, Founder & CEO at Baazi Games, said, "We are really happy with the sheer fervor and love that Indian poker players showered during the Asian Poker Tour. Witnessing such enormous participation not only surpassed our expectations but also helped empower the hidden marvels of this skill-based game, poker. Our dedicated and enthusiastic team has already started gearing up for the next season, and we are certain that the follow-up season of Asian Poker Tour will be bigger and better."
ALSO READ: What Are These Poker Probabilities? FIND OUT
Asian Poker Tour is one of Asia's leading tournaments which announced the first-ever exclusive online series for Indian players, in 2020, in partnership with Pokerbaazi.com. This year, it was the second edition of the premium poker series which was held entirely online.
Top 3 Champions of APT:
APT#35 Super Highroller 80L GTD

Winner Name: Rajat Sharma

Winner Age: 42

Winner City: Gurgaon, Haryana

APT#29 Highroller 75L GTD

Winner Name: Mithun Mahesh Winner Age: 28

Winner City: Ratnagiri, Maharashtra

APT#49 Main Event 1CR GTD

Winner Name: Subhayan Das

Winner Age: 26

Winner City: Siliguri, West Bengal
PokerBaazi.com
PokerBaazi.com is one of the most trusted online poker platforms in India that provides potential customers with an opportunity to play poker professionally in a safe and a secured manner. The 24/7 customer support, user-friendly interface as well as wide array of tournaments, makes PokerBaazi.com an engaging platform to get involved with. Spearheaded by Founder & CEO of Baazi Games – Mr Navkiran Singh, the platform currently has 2 million-plus registered users, which depicts a mushrooming growth of the platform's reach since its inception in late 2014. The achievements of PokerBaazi.com are unprecedented, as it stands as a pioneer in the online poker landscape by introducing the first-ever loyalty program – 'Baazi Rewards' alongside organizing India's hunt for gold medalists in poker through the prestigious National Poker Series. The constant innovations and loyalty rewards attract potential and new customers to this game of skill as PokerBaazi.com's strong suit is to drive innovation and incremental changes for the organization at a holistic level.
---
---
More News
---
Comments