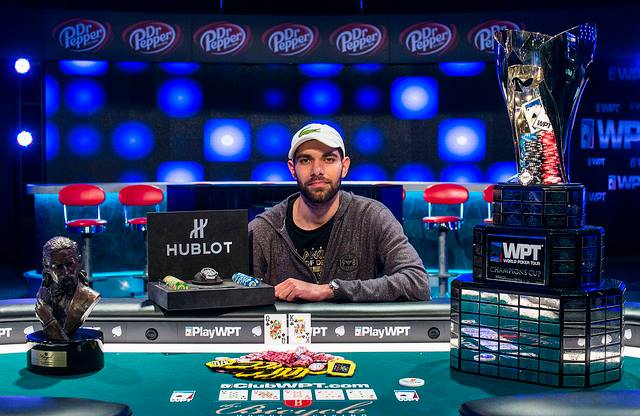 Poker
---
Art Papazyan wins WPT Legends of Poker
Art Papazyan, a local high-stakes pro who specializes in cash games, defeated WPT Raw Deal analyst and poker icon Phil Hellmuth to win the Season XVI WPT Legends of Poker Main Event title. Papazyan denied Hellmuth his first-ever World Poker Tour title to claim the first of his own and earn a payday of $668,692.
Papazyan's prize includes a $15,000 seat into the season-ending WPT Tournament of Champions, and he also earned a luxurious Hublot Big Bang Steel watch.
On the final hand, Papazyan's Kc Qs and Hellmuth's Ah Kd were the two hands the players got all the money in with preflop. Papazyan needed to come from behind to secure the victory, as he held the chip lead at the time, and Hellmuth needed to hold on and double up.
The QhTh8c flop delivered Papazyan with the queen he needed to take the lead, but Hellmuth wasn't done yet. Hellmuth could still hit an ace to make a better pair, a jack to make a Broadway straight, or other running cards to win the hand. The 5h on the turn gave Hellmuth a flush draw to go along with everything else, but the 3s river missed him completely and it was all over.
In addition to beating Hellmuth to secure the victory, Papazyan outlasted a very tough final table that included two-time WPT champions JC Tran and Marvin Rettenmaier. Both Tran and Rettenmaier were looking to join the ranks of players with three WPT titles, but Rettenmaier was the second player eliminated, going out in fifth place, and Tran fell in third.
Tran's elimination came when his Ts fell to the Kh Qh of Hellmuth on a Kd Jh 5s 4h 2d board.
Not only did Papazyan earn the lion's share of the prize pool, the title, the Hublot watch, and everything else that the winner receives, but he earned a valuable 1,200 points in the Hublot WPT Player of the Year race. With that, Papazyan now holds the same amount of points in the race as WPT Choctaw winner Jay Lee, but Papazyan has the tiebreaker because he won the most money.
Next up for the WPT Main Tour is a trip to the East Coast for the Season XVI WPT Borgata Poker Open. The $3,500 Championship Event boasts a guaranteed prize pool of $3 million and runs September 17-22, 2017 at Borgata Hotel Casino & Spa. This is another televised event on Season XVI of the World Poker Tour and one that always draws a massive field and huge prize pool. Last season, Jesse Sylvia topped a field of 1,179 entries to earn $821,811.
Final Table Results:
Art Papazyan – $668,692*
Phil Hellmuth – $364,370
JC Tran – $217,040
DJ Alexander – $161,490
Marvin Rettenmaier – $120,775
Adam Swan – $91,825
*First-prize amount includes a US $15,000 seat into the season-ending WPT Tournament of Champions.
---
---
Comments