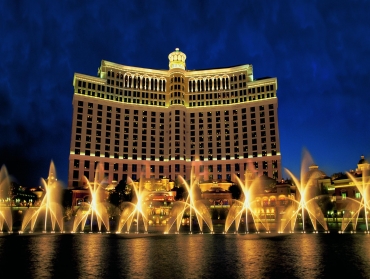 Gambling
---
Armed Robbery at The Bellagio; Robber at Large
Early on Tuesday evening, the Bellagio Hotel & Casino on the Las Vegas Strip reported a robbery, staged near the poker cage section of the casino. Las Vegas Metropolitan Police has confirmed that they are currently investigating the robbery as the robber is still at large. The incident took place shortly before 4 pm on Tuesday, as confirmed by Las Vegas Police.
The police later released CCTV footage of the robbery, which shows a man entering the hotel in a silver Chevrolet Cruze with a Nevada license plate. The footage then forwards to him walking through the casino doors and heading straight to the poker cage. The vehicle was recovered by the police but the suspect is still to be found. 
Present at the scene was Hollywood actor James Wood, and he was all praise for the Bellagio staff, seeing how coolly they handled the situation at hand. He also added that no customers were hurt thanks to the staff's cooperation.
Description of man: Wearing a hoodie, a winter cap, blonde wig, glasses, face partly masked, carrying a gun, and also holding a plastic bag in his hand.
The bag would later be used to store money that he would rob from the poker cage. As the Bellagio officials confirmed, the suspect demanded an 'unknown amount of money' and filled his bag with it, before fleeing the casino and driving off in the same vehicle. Luckily, the employees complied with the demands of the armed man, leaving no one injured after this incident.
The Bellagio is working with Las Vegas Police and the police seem confident that they will nab this criminal who is on the loose. They believe that this was a one-man plan but the possibility of another person being involved in this heist has not been ruled out as yet.
---
---
Comments