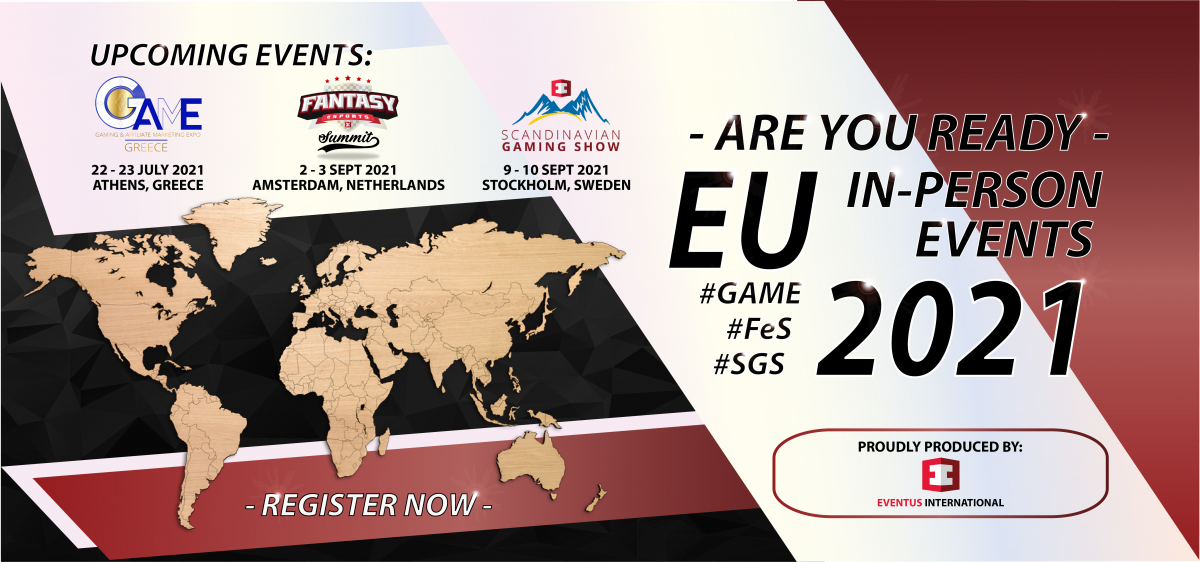 Gaming
---
Are You Ready Europe – Join Eventus International in Greece, Netherlands & Sweden
Eventus International will be taking on Europe from July onwards, offering its first three in-person gaming events of 2021 in Greece, Netherlands, and Sweden. In light of recent positive news regarding the global pandemic subsiding within these three countries, the Eventus International team is pleased to continue with all preparations to ensure safe and successful events.
The inaugural GAME (Gaming & Affiliate Marketing Expo) Greece will be kicking off in 2 weeks time. This highly anticipated in-person event will offer limited seats to ensure a safe environment for all attending. With the long absence of face-to-face events, this is your chance to reconnect, to catch up with industry peers and to network responsibly with a beautiful Summer backdrop of the marvellous Athens. The summit will gather regulators, betting operators, investors, lawyers, affiliates, SEO specialists, betting platform providers and payment providers to discuss the prospects of gaming market opportunities in Greece and the surrounding nations for both offline and online gaming. Join Eventus International in 2 weeks in Athens where the gaming industry will once again meet in-person for insightful discussions.
HEAR FROM DISTINGUISHED #GAME2021 SPEAKERS:
Anastasios Belesis, Senior Lotteries Consultant
Assaf Stieglitz, Co-Founder, Odds1x2 and Playwisecasino
David Barrie, Managing Director, Inverto Consulting
David Schollenberger, Director, Policy and Compliance, Cyprus Gaming + Casino Supervision Commission
Emily Helmer, Head of Compliance and eMerchant Services, Tal Ron, Drihem & Co.
Evangelos Karagrigoriou, Business Consultant/Former Chairman, Hellenic Gaming
Commission
Giannis Koutivas, Key Account Manager, Kingbetmedia
Jakub Kolomičenko, Head of Legal Department, Endorphina Ltd.
Jens Podewski, CEO and Co-Founder, FinXP
John Kalamvokis, Head of Gaming, Kaizen Gaming (Stoiximan/Betano)
Krister Malm, Founder & Group CEO, Oddsium
Kyriakos Fourniadis, MD Southeast Europe, Better Collective
Maayan Dana, Head of Contract Law, Tal Ron, Drihem & Co.
Maria Arnidou, Head of Marketing & People Communications, Fantasy Sports Interactive
Marius Galdikas, CEO, ConnectPay
Russell Yershon, Director, ConnectingBrands
Stratos Kanakis, Director, Golden Ratio Consulting
Tal Itzhak Ron, Chairman and CEO, Tal Ron, Drihem & Co.
Teemu Lehtinen, Business Consultant
Thanos Marinos, MD Greece, Betsson Group
Vasiliki Panousi, Manager of EU Affairs, European Gaming and Betting Association (EGBA)
Will Young, Director of Sales & BizDev, Cryptopay
Register your attendance now before seats are sold out: https://www.eventus-international.com/game
In early September, Eventus International will be hosting the first ever Fantasy eSports Summit (FeS) in Amsterdam, Netherlands from 2 – 3 September 2021. The two-day international summit will bring the industry's biggest names together from across the globe to provide a shared platform for information exchange of best practices and the secret formula for success. The coronavirus brought the world to an abrupt standstill. The dynamic world became static, the stadiums turned dormant as live sports was brought to a halt, leaving sporting fans high and dry as most countries restricted public gatherings to prevent the spread of COVID-19.
As people were confined to their homes and all the activities of life were stuck, one sport emerged perhaps stronger than it's ever been before, namely competitive video gaming or eSports. In the pandemic, the gaming and eSports industry seems to have found the right ingredients to flourish. Join Eventus International in Amsterdam to be a part of this rapidly growing industry and the opportunity to network with industry leaders.
MEET OUR #FeS2021 SPEAKERS:
Adrian Figallo, Co-Founder & CFO, World Pro Racing
Andrew Pearson, Managing Director, Intelligencia
Andy Fahey, Global Esports Leader, PwC, UK
Assaf Stieglitz, Founder and CEO, PlayWiseCasino
Carl Fredrik Stenstrøm, General Secretary, Norwegian Industry Association for Online Gambling (NBO)
Christina Thakor-Rankin, Principal Consultant, 1710 Gaming LTD., UK
Daniel Sebes, Business Development Manager, SEON. Fraud Fighters
Emily Helmer, Head of Compliance and E-Merchant Services, Tal Ron, Drihem & Co.
Felix Klastrup, Founder & CEO, GameScorekeeper
Genia Gurevitz, Head of Banking and Payment Services, Tal Ron, Drihem & Co.
Gustaf Hoffstedt, General Secretary, Swedish Trade Association for Online Gambling (BOS)
Ivan Oleksii, Sales and Partnerships Manager, Esports Charts
Joakim Renman, Chief Commercial Officer, Scout Gaming Group
John Gordon, CEO, Incentive Games
Justin Mifsud, Founder & CEO, World Pro Racing
Keith McDonnell, CEO, KMiGaming
Kristaps Dobrajs, Director of International Sales, ConnectPay UAB
Lee-Ann Johnstone, Founder, AffiliateINSIDER
Marek Suchar, Head of Partnerships, Oddin
Mark McGuinness, Director of Marketing and Customer Success, Dam Mad Media
Martin Boháč, CEO, Allodium
Mikael Westerling, VP & Co-Founder, GRID Esports
Morten Ronde, CEO/Managing Partner, Danish Online Gambling Association (DOGA)/Nordic Gambling
Oskar Fröberg, CEO, Abios
Peter-Paul de Goeij, Director, Netherlands Online Gambling Association (NOGA)
Seth Schorr, CEO, BettorView
Tal Itzhak Ron, Chairman & CEO, Tal Ron, Drihem & Co.
For more information, visit: https://www.eventus-international.com/fes
After FeS 2021, Eventus International will be heading to Stockholm, Sweden for the 3rd Annual Scandinavian Gaming Show. SGS 2021, scheduled to take place from 9 – 10 September 2021, will once again bring attendees together from all gaming sectors, disciplines, and regions throughout Scandinavia and beyond, featuring industry-specific conference streams and networking opportunities with industry peers. With a per capita gambling spend that is among the highest in the world, the Scandinavian countries offer the profitable potential for online gaming and other gaming verticals. Several developments across the Nordic nations have taken place in the last few months which position the region as a focal point for the gaming industry, globally – what happens in this region, will be coming soon to a regulated market near you. The 3rd Annual Edition of The Scandinavian Gaming Show offers industry professionals a vital opportunity to gain insight from thought leaders across the betting and gaming business – the authorities on the industry, legal, regulatory and player experience development in Sweden, Norway, Denmark and Finland.
VIEW THE #SGS2021 SPEAKER LINEUP:
Carl Fredrik Stenstrøm, General Secretary, Norwegian Industry Association for Online Gambling (NBO)
Frank Herold, Member of the Board, EMIRAT
Fredrik Ljungman, Head of Corporate Strategy, Otmore Limited
Jari Vähänen, Partner, The Finnish Gambling Consultants Oy
Maria McDonald, Founding Partner, Nordic Gambling
Minna Ripatti, Founding Partner, Legal Gaming
Morten Ronde, CEO/Managing Partner, Danish Online Gambling Association (DOGA)/ Nordic Gambling
Peter-Paul de Goeij, Director, Netherlands Online Gambling Association (NOGA)
To view more information and/ or to register your participation, visit: https://www.eventus-international.com/sgs 
Eventus International will have all the necessary safety and social distancing measures in place at each of the events, to continue to offer platforms for industry professionals to meet, engage and network responsibly within the international gaming industry. To view the full lineup of 2021 & 2022 events, please visit: https://www.eventus-international.com/gaming-events
______________________________________________________________________
Stay up to date with Eventus International's event and publication offerings, subscribe to our YouTube channel here: https://www.youtube.com/channel/UCl6FRtGlwcLFtYkQxh7uZmQ
Eventus International is a dynamic, summit and exhibition company that connects leaders with leaders and turns opportunity into possibility. The firm utilises its vast networks and expertise to create forward thinking summits that align best practice and industry development with empowering content and outstanding networking opportunities.
Our summits and exhibitions have a longstanding reputation for gathering primary stakeholders in the industry to discuss the future of the gaming sector. We operate in profitable vertical industries with significant international growth potential while promoting the growth of emerging markets.
iGG (iGaming Germany), RiSE (Russia iGaming Summit & Expo), All-In Gaming Ukraine Summit, SPiCE Sri Lanka, Sports Betting West Africa+, Fantasy eSports Summit, Scandinavian Gaming Show, All American Sports Betting Summit, Cyprus Gaming Show, iGaming Central America, International Lottery Play Summit, International eSports Business Forum, and Chile iGaming. 

---
---
More News
---
Comments