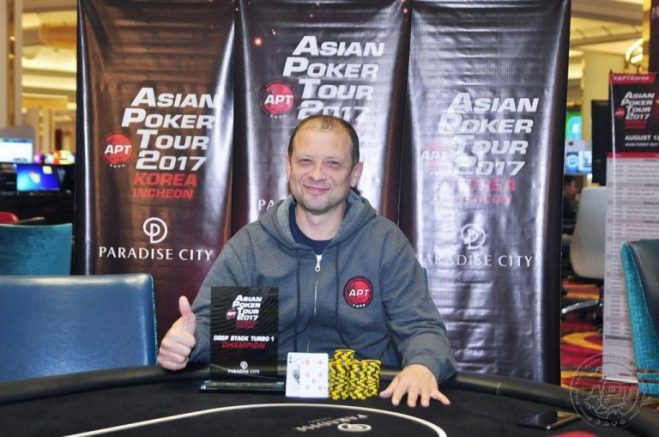 Poker
---
APT Korea: Main Event Down to Final 8
It is going to be another exciting day at the Asian Poker Tour Korea Incheon 2017 with the Main Event back on the tournament floor of Paradise City. With everyone now guaranteed some dough, it is full speed ahead. The goal for today's Day 3 heat is to pile up those stacks and secure a seat to the Final 8. The APT Main Event drew in a total of 185 entries and with each one ponying up the KRW 1,100,000 buy-in, the prize pool grew to KRW 179,450,000. The eventual champion is looking to collect a whopping KRW 44,860,000.
After big shifts went down all day yesterday, Day 3 opens up with new faces at the helm. The top five leaders are Albert Paik, Yuki Ko, Andy Li Xueyan, Jiwoon Kim, and Taehoon Han. These players dominated the felt at Day 2 and are in prime form to earn one of those coveted Final 8 berths.
Here are the side event results:-
Deep Stack Turbo 1
The Deep Stack Turbo 1 event ran alongside the Main Event last night and wrapped up well past the midnight hour. Shalaumov Oleg finally closed out the night, besting a field of 63 players to claim the KRW 2,520,000 first prize and the APT event trophy.
We jumped into the action only at the three-handed bout with Oleg, Ishizuaka Kiyotaka and Tsurumi Atsushi on a merry go round with the chip lead. With the blinds climbing, everyone was falling dangerously low in chips that shoving was the only move left to make.
The shove fest results were to Oleg's favor, eliminating Atsushi in 3rd place then finishing off Kiyotaka in runner up. The last hand was Kiyotaka with J♣ 8♠ and Oleg with A♠ 7♦. The board ran 3♠ 9♥ 6♦ 4♦ 5♣ for a victorious straight.
NLH One Day event 
Shortly after the main bagged up, Noda Hiroyuki staged a successful comeback at the No Limit Hold'em One Day event to capture the KRW 5,120,000 first place purse and the APT event trophy.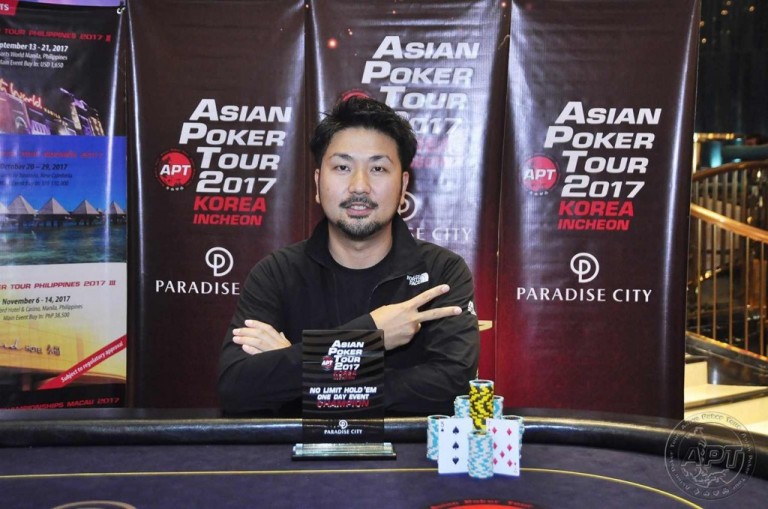 The first side dish of the day kicked off with 33 players pooled in for a total pot of KRW 12,800,000. Only five players were guaranteed a piece of the pie with the bottom two slices eventually going to Nawa Ichiyo and Le Evgeniy.
The next portion almost went to Hiroyuki however he avoided elimination after catching a lucky break with his Q♥ J♠ all in. The board filled up to 10♣ J♣ 6♦ 2♠ Q♠, improving him to two pair to overtake Saika Sho's K♣ K♠. With Sho now on the short end, he was a goner in 3rd place with Junichi Nakagiri delivering the axe.
Yet despite Nakagiri's 2:1 chip lead at heads up, he was unable to put away Hiroyuki.  Instead, it was quite the opposite with Hiroyuki shipping in a double up with Q-Q over K-8 then winning a big pot with his pocket jacks to cripple down Nakagiri and send him out in 2nd place.
Payouts:
Noda Hiroyuki – KRW 5,120,000
Junichi Nakagiri – KRW 3,200,000
Saika Sho – KRW 1,920,000
Le Evgeniy – KRW 1,410,000
Nawa Ichiyo – KRW 1,150,000
WeLoveSport.com Deep Stack Turbo
The WeLoveSport.com Deep Stack Turbo event got started an hour later than schedule with the room filled up and all the tables accounted for. By the time it ran, there were 46 players raring to go for a prize pool that grew to KRW 6,690,000.
After the bubble burst, leaving the last five players to slug it out, the biggest pot came ka-booming down sending two players out and one soaring to a monstrous chip lead. The three-way showdown was between New Zealand's Taehoon Han, Japan's Mitsumori Nobuaki, and a familiar face at the final table these days, USA's Jeremy Graves. In the aftermath, Han's A♠ Q♥ scooped it all up outdrawing Graves's J♥ J♣ and Nobuaki's 5♥ 5♠ on a board landing A♦ 7♦ 8♣ K♣ 3♥. While Nobuaki was well covered, Graves was only 2K behind Han and had to settle for a 4th place payout.
With a massive massive lead, and yes it was massive, Han proceeded to eliminate the next two players to win the KRW 2,680,000 first place purse and the APT event trophy.
Payouts: 
Taehoon Han – KRW 2,680,000
Jung Kelvin Hyunki – KRW 1,670,000
Izutsu Shojiro – KRW 1,000,000
Jeremy Graves – KRW 740,000
Mitsumori Nobuaki – KRW 600,000
Bounty Hunter 
Out of the 78 bounty hunters in the field, it was Hong Kong's Kwok Luen Kwan who kept his head held high dominating Chono Fumiaki at the final duel to claim the latest event trophy of the festival and KRW 4,410,000 (USD 3,800 approx) in cold hard cash.
The race for the title began with only 7 players returning from last night's slaughter. In most cases, it would have been have been the final 8 but Mikio Inoue eliminated two players simultaneously to wrap up the night with one less.
The final day began with Yoshida Masanori entering with the largest artillery. After two hunters met their end early, it was down to five players with Masanori running low and Fumiaki in full command with easily over half of the chips in play.
In Masanori's attempt to boost his stack, he shoved it all in on A♥ A♦ 6♦ flop and was called by Tan Chinsun who initially tanked for some time. His call with K♠ Q♦ was the right choice, exposing Masanori's J♣ 4♥ bluff. The turn 5♦ and river K♦ sent Masanori out in 5th place. Not long after, Chinsun scalped Inoue to bring the fight down to the last three hunters.
The round began with numerous orbits without a flop. This led to the discussion of an ICM deal. An agreement was eventually reached; payouts were distributed, leaving KRW 300,000 on the side plus the trophy for the eventual winner.
Action resumed with Chinsun immediately having a lot of trouble. He lost two sizable pots, one each to his opponents Kwok and Fumiaki then fell in 3rd place with a desperate K♥ 2♣ shove that was unable to catch a break against Fumiaki's A♣ 10♦.
Although the heads up round began with Fumiaki backed by a substantial lead, it was Kwok who steered that ship. Kwok won three huge pots without a showdown to amass 95 percent of the chips. Fumiaki managed to double up a few times, but his stack was still too low to pose any kind of threat and was eventually eliminated. Due to the ICM deal, Fumiaki made out with more cash earnings but Kwok won the spotlight for his victory.
Payouts:
Kwok Luen Kwan – KRW 4,410,000 (deal made)
Chono Fumiaki – KRW 4,570,000 (deal made)
Tan Chinsun – KRW 3,560,000 (deal made)
Mikio Inoue – KRW 2,070,000
Yoshida Masanori – KRW 1,780,000
Lei Jichong – KRW 1,540,000
Soh Yan Dathyronne – KRW 1,330,000
Kenji Yamashiza -KRW 1,170,000
Bi Qiang – KRW 1,060,000
Hirayama Masaki – KRW 970,000
Super Deep Stack Turbo 
The Super Deep Stack Turbo, one of the fastest tournaments on offer at the ongoing festival, blew by in top speed with the field going from 66 to 3 in just a blink of an eye. Okay, that's an exaggeration but we did see the numbers drop pretty fast on the screen.
The money round was reached when 9 players remained however we only focused on the action at three-handed with Masashi Shibata looking comfortable with a big chip lead. He drove his stack even higher after eliminating Tanaka Masatoshi in 3rd place with his K♣ J♥ spiking trips on a running board of Q♦ 2♥ K♥ K♦ 3♥ to dust A♦ 9♠.
The heads up round had Shibata well fueled with 70 percent of the chips but Shinichi Takenouchi wasn't going down that easy. In just one hand, Takenouchi doubled up with pocket eights to Shibata's pocket sevens and the lead switched up. But Shibata battled back, won two slightly charged pots then regained the lead. He finished off Takenouchi with J♣ J♥ over Q♥ 8♠ on a board of 8♦ 6♠ 6♥ 4♠ 5♣ to ship in the KRW 5,320,000 first place purse and the APT event trophy. 
Top 3 Payouts:
Masashi Shibata – KRW 5,320,000
Shinichi Takenouchi – KRW 3,280,000
Tanaka Masatoshi – KRW 2,400,000
---
---
Comments