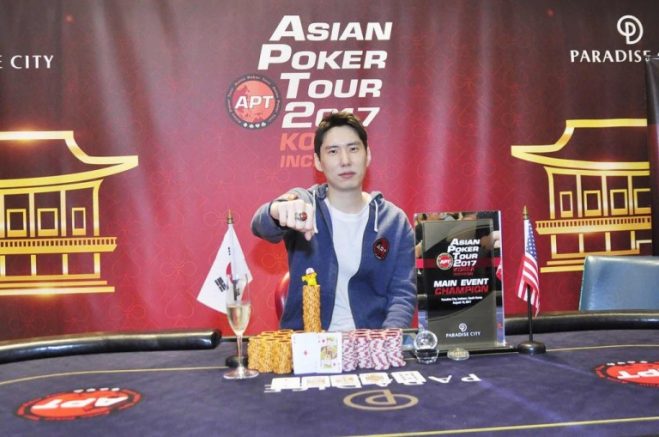 Poker
---
APT Korea: Albert Paik wins Main Event for KRW 44,860,000
The first-ever Asian Poker Tour Main Event champion of the inaugural APT Korea Incheon 2017 was crowned at Paradise City casino with USA's Albert Paik eliminating five players of the Final 8 to seize the championship title. Paik shipped in the grand prize KRW 44,860,000 (INR 25.21 Lakhs) first place prize, the APT Championship trophy, and the exclusive APT Championship Ring.
The Main Event began five days ago with a total of 185 entries each one contributing the KRW 1,100,000 (INR 61.825) entry fee for a smashing prize pool of KRW 179,450,000 (INR 1.01 cr approx). As the qualifying days progressed, it was Albert Paik who owned the headlines as he topped Day 2 and Day 3 to enter the Final 8 battle in the driver's seat.
But getting to the champagne moment was not a smooth one for Paik especially that Jinwoo Kim was hot on the hunt and hungry for chips. Kim successfully attacked stacks and won sizable chunks out of third-ranked Kitauchi Yoshihiro to slide into the chip lead. With Paik just as determined, he quickly reclaimed the high chair by sending out both Kimihura Nakamura in 8th place and Yoshihiro in 7th place.
Although it was clear that Paik and Kim battled for control of the felt, Kazuto Sato also did some damage. He denied Yuichi Sumida any further than a 6th place finish to downsize the field to five. Despite his rise in chips, Sato would meet the end of the line booted out hard by Kim. His fall could as well have been the most stunning hand of the day. You can read the hand history but to sum it up, Kim had a great read on Sato to send him packing in 5th place on a failed bluff.
With Kim shipping in an enormous stack, Paik and Iori Yogo needed to make up some ground in order to catch up. Paik inched close after eliminating Andy Li Xueyan in 4th place however Kim answered back with multiple winning hands against both of his opponents to distance himself further, amassing two-thirds of the chips in play.
But since this is poker, luck also has its glorious moments. Paik shoved with K♦ 10♦ and got called by Kim with A♦ 9♥. Though dominated, Paik averted elimination when the board ran 8♦ 10♠ 5♦ 8♥ 4♠ to grant him a huge double up and the chip lead once again. Not long after, Paik railed Yogo in 3rd place for the final showdown against Kim.
While the rail was geared up for a heated battle between the two dominant forces of the Final 8, the heads up round lasted just one hand. Both players engaged in a preflop raise war that led to all their chips in the middle. Kim had A♣ 2♣ and Paik held A♦ K♦. The final community board ran K♥ J♠ 10♠ J♦ 2♦ giving Paik the higher two pair and the victory.
---
---
Comments