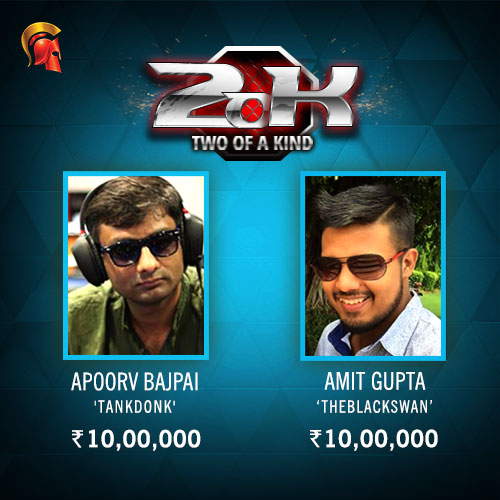 Poker
---
Apoorv Bajpai, Amit Gupta win Spartan's 2.o.K
The most awaited event of the month Two of a Kind (2.o.K) took place last night on TheSpartanPoker. The event drew 946 entries to make a prizepool of ?37,84,000. Top 70 players took a share of the prizepool with a min cash of ?9,460. At the end of the tournament there were two winner collecting ?10 Lakhs each in Apoorv 'tankdonk' Bajpai and Amit 'TheBlackSwan' Gupta. Other notable players who made it to the money were Rapid Ride winner Jagdeep 'Nodus Tollens' Singh at 5th place for ?1,51,360, December Millionaire Mayank 'alwayslimpAA' Jaggi at 14th place for ?37,840, April Millionaire Phanindra 'k9akkin' Akkina at 18th place for ?26,488 and Destiny winner Anirban 'pokernoob' Das at 19th place for ?26,488.
Apoorv Bajpai who is a doctor by qualification and was an Indian Air Force officer before he stepped into the management studies at IIM – Lucknow. He worked in the corporate sector for a while before switching to the field of experimental learning. At present Bajpai has facilitated life skills (leadership and team building) workshops for corporate teams and school students using experiential methodology with friends at Inme, Innergise and Exper learning.
He also works with his wife who is also a facilitator and coach with Excellerate. Speaking about his poker journey, like Gupta even Bajpai began his poker journey on Zynga poker on Facebook in 2010 and got it into the game. Then he deposited $5 in PokerStars to practice micro stakes, SnG's where he multiplied the initial $5 several times. Live poker scene began with his friends at IIM with ?100 buy-in and got an immediate attraction to the game as it involves skill, basic math, psychology and intuition.
27-year old Amit Gupta completed his graduation in computer science and mathematics from BITS – Pilani and currently working as an algorithmic trader by profession in Bangalore. Gupta is a recreational poker player and before this win he also won the India Online Poker Championship #9. His poker journey began on Zynga poker on Facebook back in college days where he barely knew about the gaming rules. Started playing small buy-in tournaments/cash in house games with his office friends where he gradually developed an interest in the poker tournaments. His live scene began six months back in his home city 6 months back but then he realised that live games are taking too much time and was not helping to improve his game then he completely switched into the tournament poker and then TheSpartanPoker happened in his life. He is playing recreationally since last three-four months and considers this win as his biggest one.
Gutshot spoke to the Two of a Kind winners Bajpai and Gupta and here are the excerpts;
Congratulations on your victory! Please tell us through the Two of a Kind event. Kindly give us details on some of the key hands.
Apoorv Bajpai: I was keen on playing the two of a kind tournament as it promised another high value tourney from Spartan, which I believe is a pioneer and current best Indian site for tourneys. I was lucky in the beginning to be on soft tables and could quickly build a decent stack. From then on I was constantly in the top bracket.
I got lucky in the right spots and chose most of my spots to steal, bluff and extract value pretty well. Some of my mistakes didn't cost me much and I was pretty much among the top few throughout. I played one hand a bit poorly where I got super lucky and rivered a Q to hit trip Q's to Crack aces with my AQ.
A double knockout in the later stages pretty much ensured my top 5 finish. 'Nodus Tollens' was one player I was wary of but he got unlucky despite playing very well especially in the later stages. I feel I played well and got lucky to win this first two of a kind and I'd like to thank the players who were railing behind me in the final stages.
Amit Gupta: As I have just started , my bankroll does not allow me to play tournaments with buying > 1500 , So i could only play 2ofaKind because of free ticket I got for depositing in TheSpartanPoker. I got registered in the tournament from the start and slowly built my stack. I was in top 15 stacks for a major part of tournament. I was just waiting for good spots to chip up and main thing was to maintain focus for long hours and I am happy i was able to do it.
One of interesting hands that happened was when there were 9 people left (4 on one table and 5 on other table). I was running 7/9 and got dealt T7o in SB. I had 15 BB's and when action folded to me I jammed T7o from SB which i think was a profitable shove. BB had A9s and he called and I was lucky to win that hand. After that I just played tight and ICM poker as the pay jumps was really top heavy. I am happy that everything worked out well in the end. I ran pretty well also which i think is a must if you have to win such a big field tournament.
What was the reaction of your friends and family?
AB: My wife is super proud and happy with the result. I'm one of the lucky few whose spouse understands the love for the game. She is my coach, partner, sounding board and inspiration. This win is dedicated to her. The rest of my family is also proud of my performance.
AG: Actually I have never told my parents much about poker but now I can tell them a bit about it as I have won some money. I do have future plans to continue playing in online space for now and hopefully move up in buy-ins in coming months. I also want to spend good amount of time in studying the game.
Your feedback on The Spartan Poker itself and their promotions.
AB: I intend to play more tourneys on TheSpartanPoker as I find them to be well structured and high value. Amin Rozani, Vasim Rozani and Sangeeth 'Samoh' Mohan deserve all credit for building a great online platform for the Indian poker community.
AJ: To be very honest , among all the Indian sites i have tried playing poker on, TheSpartanPoker is by far the best in terms of promotions , software, tournament structures and I would like to thank them again for giving me a free ticket to this tournament. Taking this opportunity, I would just like to request them if they could make their hand history re-player work for mac 🙂
So you are a Millionaire now, what do you plan to do with this money?
AB: This win is dedicated to a euro trip with my wife.
AG: Yes, it's a good amount of money. No major plans yet. A big part of it will go in my bankroll and investment in poker study tools like Icmizer, Run It Once etc. Rest of it I would may be like to spend on an international trip 🙂
---
---
Comments