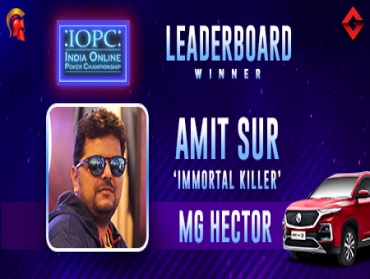 Poker
---
Amit Sur drives home MG Hector from IOPC Leaderboard
17 days of intense poker action on the virtual felts of Spartan Poker and we've finally reached the end of another edition of the India Online Poker Championship (IOPC). Every day, new winners were crowned while some known pros also took home top honours across 99 tournaments hosted.
More than the prize money, it was also the prestige of winning IOPC titles and one player who did well not just in two or three tournaments but in almost every one of them was Amit Sur who goes by the name 'Immortal Killer' on Spartan. He managed some serious grinding across these 2-odd weeks and when the series ended, he emerged on top of the IOPC Leaderboard, taking home a swanky new MG Hector!
IOPC as a brand has grown over the years, beginning from as little as INR 8.6 Lakh in series guarantee way back in October 2015, and you can read all about it here. As for this edition, a total of INR 20.5+ Crore was given away, and no other online series in India has even come close to such numbers.
In the previous IOPC edition in July 2019, Amit Sur grinded through the series and ended up just short on the leaderboard, finishing second to Neeraj Kumar with 3 titles in the series and a total of 35 cashes. He's shown remarkable consistency to end up on the Leaderboard once again, this time finishing second best to no one, topping the competition and winning the MG Hector.
His stats were nothing short of outstanding this series, finishing 57 times in the money and bagging two IOPC titles, giving him a total of 11,637 IOPC Leaderboard points. A total of 4,749 unique participants were recorded in the IOPC Leaderboard and Sur topped them all, proving how the best players are often the most consistent players. Gutshot caught up with Sur after he was announced winner and you can read all about his experience below…
Hi Amit, did you plan on grinding for the leaderboard at the start of the series?
Yes, I had this planned ever since the announcement of IOPC 2020. 
You were also runner-up on the last IOPC Leaderboard. Did you fancy your chances this time?
Trusts me being runner-up in the last IOPC was very heart-breaking. But yes, it did help me as I had the experience of chasing the TLB and grinding 14 hours a day for 15-17 days. And it's because of this experience from last time that I was able to build a stronger strategy this time to win the IOPC TLB.
You're proving to be extremely consistent in these online events. What do you think gives you an edge over other players?
I don't think it was ever about the edge. In fact this IOPC was even tougher than the last one. We had some fierce competitors and some of the best in the industry such as Sriharsha aka 'Fish2050', 'mumbaifish', Bhanu Prakash aka 'spectre', 'GHOSTF@CE' and many other MTT regulars. I believe that I made a perfect strategy for every event I played and it worked out in my favour, just the way I expected it to be.
What is your favourite part of the IOPC?
Overall, I think it's the player pool that IOPC attracts that is really phenomenal. The guarantees are crushed very easily in almost every event.
Describe the overall IOPC Leaderboard race…
It was a fantastic series with lots of fun. Yes, there were lots of ups and downs. Chasing TLB is a very stressful job and there were times when I felt very tired or sleepy in between the games because of lack of adequate sleep. But it was determination and constant encouragement from my friends and IPP coaches which kept me going. I was very confident from start till the end about winning the TLB. But it was on the second last day of the series I believed that I have done my job well and I'm shipping it.
The top 10 players were paid on the IOPC Leaderboard and we had quite a few known names in there too. None bagged more titles than Sriharsha D aka 'Fish2050', with 3 titles and at one point, looking good to win the leaderboard race himself. Anant Purohit aka 'Pro' finished with 2 titles, while also ending as one of the 5 players who struck a deal in the Millionaire Legends tournament.
Closest to Sur in the number of finishes in the money during the series was 'mumbaifish' who had a total of 55 cashes. Along with mumbaifish, three other players in the top 10 standings didn't win a title through the IOPC including 'Tiger10', Sajal Gupta aka 'GoMuckYourself', and 'Seiborg09'. IOPC Leaderboard defending champion Neeraj Kumar also did well, finishing in 16th place after 36 finishes in the money.
For more updates on the top online and live poker tournaments in India and around the world, stay tuned to GutshotMagazine.com.
Don't have an account on Spartan Poker? Check out their review page here, and don't miss out on their bonuses, promotions, and guarantee-smashing tournaments. Sign-up now.
---
---
Comments