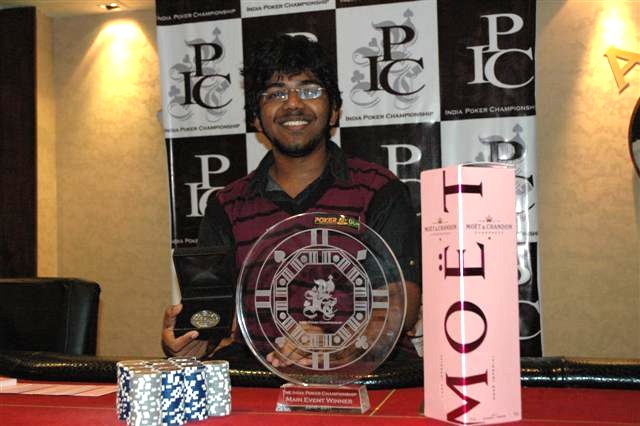 Poker
---
Aditya Sushant on being the first ever IPC Champion…
Aditya Sushant. Take a look at his Hendon Mob profile. It lists down as many as 21 live tournament cashes since his last cash in India. These include cashes at the 2019 Aussie Millions, EPT Sochi, APT Manila, PPPoker World Championship, APPT Manila and of course, 7 cashes at the 2019 World Series of Poker including a 13th place finish in Event #28.
All of this has come in just the last 10 months, prior to which Sushant has killed it in the Indian live circuit as well. All of this points out to how good a poker player this man is. However, this proficiency comes after nearly a decade of hard work, having first announced himself to the poker world way back in 2010.
He was a different looking man back then, or should we say boy! In his early twenties, Aditya Sushant made his debut at the India Poker Championship (IPC) in Goa in December 2010 on board the Casino Royale in River Mandovi. Little did we know that he would go on to ship the IPC 25k Main Event and go down in history as the first ever India Poker Champion!
He cashed in 10th place in the 10k Event before going on to beat 87 entries to win the Main Event and take away INR 6.26 Lakh in prize money, which was quite a big amount in live poker winnings back then. Just to prove that he wasn't a one-time wonder, the young Sushant returned in February 2011 to win an IPC 5k NLHE title as well. The rest is history…
Since then, Sushant has gone on to amass $670+ in live tournament earnings while also making history overseas. He became India's first ever bracelet winner when he won the Tag Event Event with Nipun Java at WSOP 2017. Almost a decade after his first IPC title in Goa, the brand is making a comeback with an INR 3+ Crore GTD series scheduled between 11-15 September 2019.
Gutshot recently penned down an article on the history of the IPC from 2010-2019 and we're also doing a series of 'Champions Speak' articles in the build up to this series. We spoke to 2015-16 IOPY winner Nikunj Jhunjhunwala last week and couldn't miss out on speaking to Sushant too, one of India's most decorated poker champs. Before we dive right into the conversation, let's look at some of his major achievements in the Indian live circuit: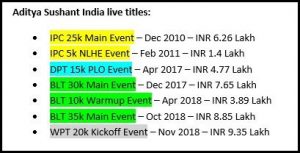 Hi Aditya, you began your journey with IPC in 2010. What do you think about the growth of the brand? Also, how special has IPC been to you?
"IPC is synonymous with Indian poker. They've been around since the start and have been trendsetters too, breaking all records with the numbers they've set in the past. They've constantly challenged the standards and benchmarks they've set and broken them too. They were definitely the best thing we had before the DPTs and the WPTs came in. When it comes to live poker in Goa, there's a lot of memories and history attached to the IPC brand."
Talk us through your Main Event victory way back in 2010 and the competition you faced there…
"The 2010 IPC was just my third ever live tournament. I was the shortest stack at the start of the Final Table and it so happened that most of those unknown players on the FT at that time went on to become some of the biggest names in Indian poker over the years. There was Amit Jain aka 'bblacklegend', Dhaval Mudgal, Abhishek Goindi, Rahul Melwani and Jan Hlobil from Netherlands. It was obviously a very tough Final Table and I was exhilarated to end up winning, given that I was very inexperienced and that it was a lot of money at that point of time too. So, it felt pretty good."
When winning that first title, did you foresee being regarded as one of India's best players 8-9 years later?
"I wasn't really thinking so many years down the line. However, I was pretty young at the time which made me think that I'm so fly and probably the best going around. But in all honesty, I knew I was good and with my love for the game, I could just get better from there…"
Will you be playing the upcoming edition of IPC? What are your expectations from the series?
"I will definitely be playing the IPC. I have high expectations from the series like I've always had when it comes to the IPC. They've been gone for a while and coming back from a long hiatus, everyone's looking forward to it. I'm sure Team IPC will do a great job hosting the event. Everyone will be welcomed well. It's going to be a lot of fun and I'm looking forward to seeing some old and familiar faces from back in the day!"
As a past champion, any advice for first-time players at the IPC?
"First and foremost, make sure you enjoy yourself and have a good time. There's going to be a lot of banter going on. Even if you don't know people, say hello and get to know some of them, especially those whose game you've looked up to and admired."
For more updates on the upcoming IPC series in Goa and similar articles from our 'Champions Speak' series, stay tuned to GutshotMagazine.com.
---
---
Comments