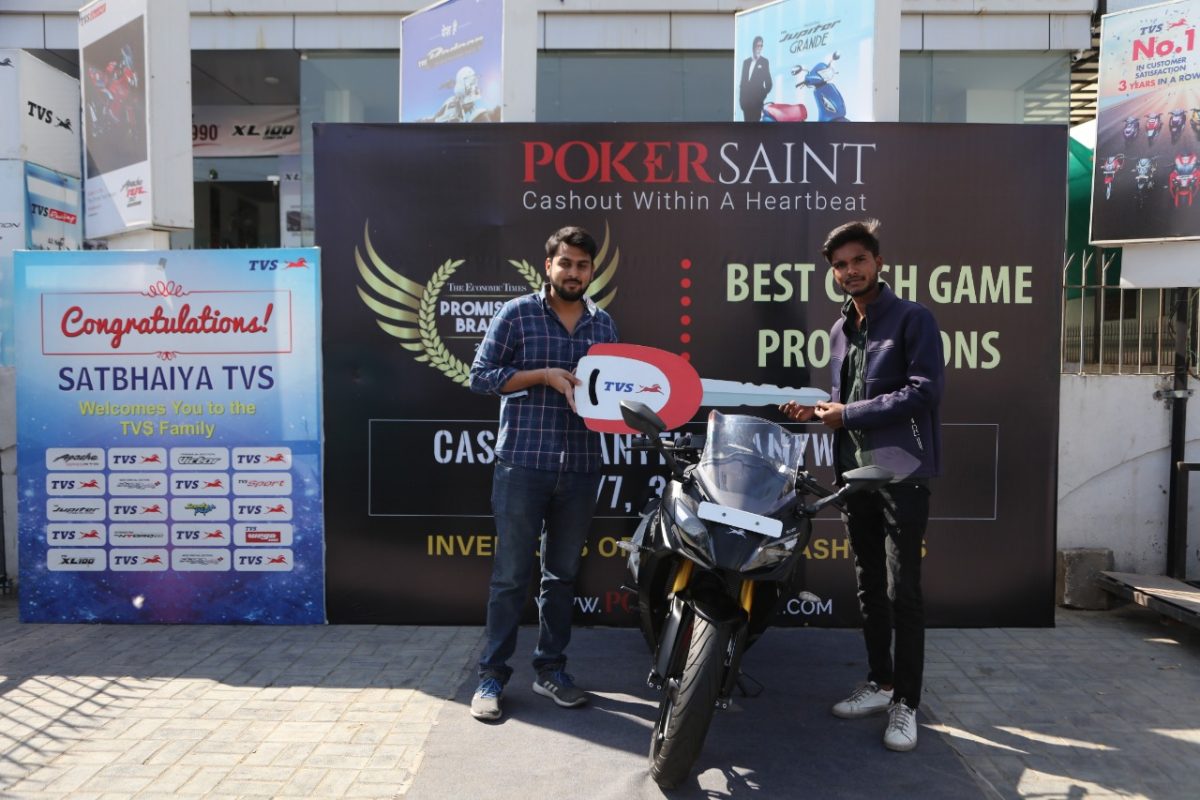 Poker
---
Abhishek Lowanshi on winning an RR 310 bike on PokerSaint
PokerSaint is one of the brands in the Indian poker world that's been hosting some exciting promotions on their site lately. They predominantly focus on cash table promotions which are some of the best in the current list of cash game promo offerings. AUTOBAN and Battle of the Sharks have been past promotions, and their latest 'Poker as a Profession' is running on the site till 24th March 2019.
Puneet Karajagi, a regular on PokerSaint, won multiple bikes and luxurious prize like high-end smartphones, etc. on the platform, all in the span of last 8 months. Many players like Karajagi have earned enormous prizes on this platform and among them is Abhishek Lowanshi (pictured above) aka 'Abhishek12' who recently won a TVS Apache RR 310 bike in 'Days of Fire and Ice' promotion on PokerSaint. The company conducted a comprehensive interview with Abhishek and touched upon various topics. Here's what followed:
Tell us a bit about yourself, Abhishek.
"I am a student of 12th class and am currently giving my board exams this year. I hail from Bhopal, Madhya Pradesh and have been playing poker since the last 2-3 years. The first time I played on PokerSaint was during Navratri in October last year. I played the 'War of the First Man 2' promotion then and even won a nice Samsung S9 smartphone."
How did you get into poker initially? Please tell us about your poker journey.
"One of my cousins introduced me to the game around 3 years ago. I found it really interesting and was hooked to it the very first day. After that, as they say, the rest is history. Every day I used to take time out from my daily routine to either play or study my game in order to improve and sustain myself. As I progressed, I tried my hand on various poker platforms operating in the country and subsequently stumbled upon PokerSaint."
What made you aware of PokerSaint? How did you get to know about it?
"I had been playing poker for the past 3 years but only came to know about PokerSaint last year in October. I am mostly a cash game player and my requirements were met with ease on the platform. According to me, 'Instant Cash Out' is the major unique selling point of any poker website. The feel-good factor of receiving your winnings under a minute in your bank account provides the players with a circumstantial boost in their morale. I have played on many poker websites but have never received instant withdrawals. In fact, more websites should imbibe this into this into their promotions."
Would you like to share any key moments playing on PokerSaint during the game?
"Well, it's an interesting game and every moment is exciting and thrilling when you are playing on the tables. All the decisions made is in accordance to your opponents and the fruits of your decisions are borne instantly in every hand by either winning that pot or losing it. It's the culmination of these moments and decisions which help determining where the person is headed."
How do you think PokerSaint has contributed to your journey?
"I won a bike (TVS RR310) in the last promotion which is special to me. It serves as a bonus and to be honest, you get the fruits of your labour and you even get the opportunity to win a bike. This is actually cool, I must say."
What are your plans for the future?
"As of now, my board exams are going on, so I don't get much time., but going ahead, I am always excited for any new promotions on PokerSaint. I am hoping that you guys come up with a care or something. I can't win a bike anymore now can I. Jokes apart though, I will start playing in PokerSaint after my exams."
Congratulations Abhishek once again and good luck for your exams. Keep reading GutshotMagazine.com for more such interviews and other poker news from around the world.

Check out our online poker rooms section, where you can read reviews on the biggest and best poker rooms in the country, while also taking advantage of their bonuses and promotions. Check out these top poker rooms HERE.
---
---
Comments