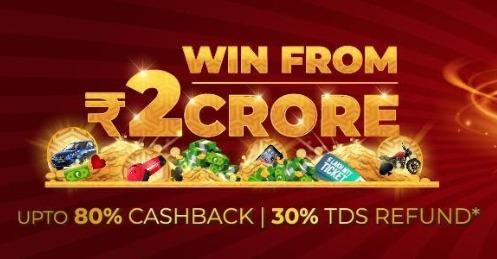 Poker
---
Pocket52 launches the Ultimate Cashback Program!
Winning or losing in poker is a function of the hands you are dealt with and how you play those hands. Even though the best of the poker players suffers bad beats, skill triumphs over luck in the long run. However, there is one way through which a player can always earn and that is through loyalty programs that are permanent fixture in the world of online poker.
Older sites tend to put less emphasis on these programs since they have a captive audience. This gives room to upstarts to enter and disrupt the space by offering some unbelievable offers. Pocket52 is the leader of the pack when it comes to loyalty cashback programs. Its Pocket Vault program is uniquely structured and allows users to earn 80% of the revenue generated by them without losing out on TDS*.

In Pocket52's Pocket Vault Program, you make Pocket Coins as loyalty points when you play on their cash tables. These coins can be redeemed anytime from the vault against the reward of your choice. Once a player registers on Pocket52, he/she is auto registered to the Pocket Vault poker cashback program. Every time one plays on Pocket52 cash tables, they auto generate Pocket Coins. Also, these coins have no expiry date, and any player can claim rewards, regardless of the games or stakes that they play or whether they win or lose!

The Pocket Coins generated can be redeemed for cash rewards or cool gadgets, poker packages, travel and entertainment vouchers, poker coaching, tournament tickets, luxury cars or bikes, and much more! Players start with 25% cashback and, as they level up, they can earn up to 80% cashback. They are auto enrolled at Level 1 (Ducks) by default, where they start earning 25% cashback. As they level up, they also become eligible to redeem TDS Refund (from Level 5 – Fishhooks onwards). At the highest level (Level 7 – Bullets), they earn the maximum benefits with up to 80% cashback and up to 30% TDS refund from the Pocket Vault! The reward catalog in Pocket Vault is extensive and contains a curated collection of rewards designed to appeal to a wide range of tastes.
Hungry for Apple? Choose from iPhones, Macbooks, iPads, Apple Watches & more!
Buying a New Car? Honda, Hyundai, Jeep, Toyota, Audi, BMW or Range Rover?
Redeem Your Dream Bike – Harley Davidson, KTM, Kawasaki, Royal Enfield, Ducati & more…
Looking for a Smartphone on a Budget? Choose from Samsung, OnePlus, Redmi & more!
Want to Brush Up Your Poker Skills? Learn from the Best in the Business & Win Like a Pro!
Or just redeem Pocket Coins for Cash! The higher your level, the more you earn!

The rewards, the industry-leading cashback of 80%, and TDS free withdrawals make Pocket52 a pretty attractive option, especially for cash table players. The site has always been pushing itself to give the best to its users by pioneering new innovations with its cutting-edge tech, launching off-the-charts promotions, creating personalized offers and more! And, one of the best offerings by Pocket52 is most definitely the Pocket Vault – a one-of-a-kind loyalty rewards program that promises to enhance the poker playing experience for all players in the Indian subcontinent. So, what are you waiting for? Join Pocket52 and start redeeming prizes and cash rewards from the Pocket Vault!
For more updates on online poker platforms in the country, keep reading GutshotMagazine.com and stay tuned.


---
---
More News
---
Comments