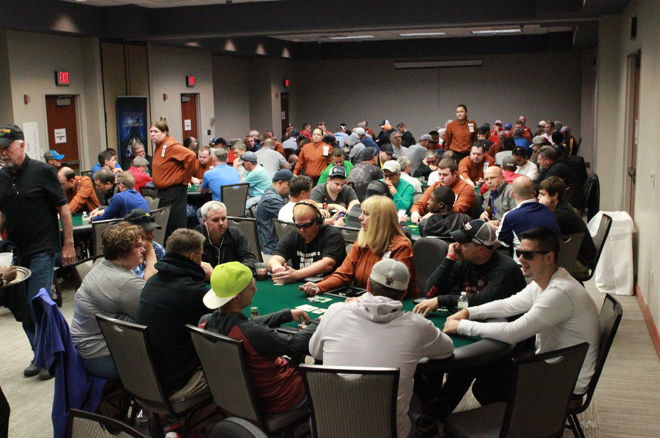 Poker
---
8 Crucial Tips to Win in Multi-Table Tournaments
Multi-Table Tournaments (MTTs) are probably the most productive game for poker players. In any case, numerous players particularly the new ones don't know how to go for a win in such tournaments. There are a few things to be remembered while playing MTTs, but the patience is above all.
Following are 8 crucial tips mainly for players starting with their online poker career:
1. Play Tight in Early Stages
In the opening stages of multi-table tournaments, it is constantly essential to play wisely and firmly. You can abandon it to alternate players to fight it out while perusing their playing styles for a couple of minutes. But if you get some unusual beginning hands that could win you the hand, you must not stay idle.
2. Open Up in Middle Stages
In the center rounds of an MTT, change your game a bit. This is where tournaments players who have been playing tight should open up particularly when they are in the late positions. In the event that stakes become an integral factor, you should open up significantly more, as there is more cash to be won at this stage.
3. Observe the Stacks Sizes
The primary thing you must see in the wake of being moved to another table in MTTs is assessing every player's stack in connection to your own stack. As you go to another table, recognize huge stacks, medium stacks, and short stacks. In the event that you are a major stack, endeavor to put weight on those with little stacks to stack up in the game.
4. Go after Weak Players
It is always a great plan to chase down players who are amply bad. In MTTs, your choice frequently relies upon the capacity of your rival. If you imagine that a player is sufficiently solid, play straight up against him and don't attempt the forced strategies to defeat him.
5. Avoid Going after Big Stacks
It is reliable to recollect that the tournament's players with tremendous chip stacks are constantly eager to take more risks since they have heaps of chips to play and venture different players at the table, so you truly need to abstain from standing up to with such players unless you have something significant to beat them in a hand.
6. Steal Pre-Flop in Later Stages
In the last phases of an MTT, the blinds go up in relation to every player's stack and you are never again looking to play post flop, rather you are frequently looking to steal chips pre-flop. Clearly, at these stages, there will be fewer hands seeing flop and significantly more of them will be holding nothing back showdowns.
7. Take Player Notes for Future
Focusing on rivals and taking notes is constantly critical. Not only will it help know playing styles of your opponents, it will also keep you centered in the tournaments. The notes taken by you will prove helpful at some point later on when you stand up to with similar players.
8. Always Play to Win the Tourney
Winning tournaments have to regularly be your ultimate objective in the event that you need to be a fruitful poker player. Make sure you complete in top three spots, rather than being cheerful just to make it 'in the money. Attempt to assemble stacks and go out on a limb to bring down massive pots.
Come back here and tell us about the before-and-after. We bet you'll have something to say. Also, get latest updates on Online Poker right in your inbox, by subscribing to GutshotMagazine.com!
---
---
Comments