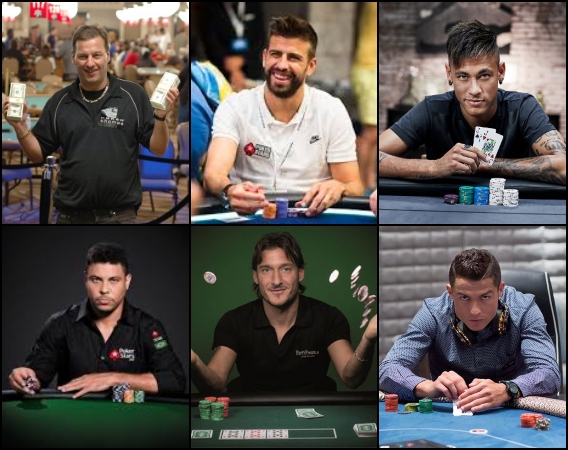 Sports
---
6 footballers who love to play poker
If you ever had the chance to enjoy a game that you admire in front of thousands of adoring fans and a stadium full of cheer, wouldn't that be incredible? Playing football for a living is a dream for many which will mostly always garner you a lavish and glamorous lifestyle and of course, the bigger leagues you play, the more your pay!
But have you ever wondered, what would these footballers and other sports players do when that dream ends? Unquestionably, a career in football is a short one, with fitness levels gradually declining as soon as players hit mid 30's. At some point in life, most athletes need to choose a career path, either coaching or media and less common ones include other business ventures, or some even change their direction altogether.
Professional footballers are turning to the poker industry quite frequently, and the trend can be observed around the world. According to one expert, it's the 'competitive nature of poker. If age or injury has stopped you getting that on the football pitch, a lot of former players opt to play for the same buzz – the highs, lows, and banter'. Here is a list of footballers who turned to the adventure of poker:
Jan Vang Sorenson
At the age of 30, Sorenson suffered a terrible knee injury that ended his career in football. When one door closed, another fortunately opened for the Danish footballer who found his interest in poker and turned into a full-time poker pro. Sorenson learned the game while traveling during his football career and is widely known for playing 7-card stud.
It was in the year 1995 that he first stepped into the world of live poker and finished 16th in a WSOP Seven-Card Stud event. In 1998, he won back-to-back in Dortmund. This change in career-path earned him two WSOP gold bracelets and now he sits comfortably in the top 10 of Denmark's all-time money list with $2.18 million in total live winnings. Wow!
Gerard Pique
Currently playing center-back for Barcelona, the Spanish professional footballer joined the Manchester United academy in 2004. Representing his country 102 times and making his debut in 2009, Pique is well-known for his role in the 2020 FIFA World Cup and UEFA Euro 2012. This Spanish player has won everything there is to win at the national level, while also dating one of the most desired women on the planet, Shakira. This talented man has cashed 5 times in European Poker Tour (EPT) events and recently finished in the runner-up position at an EPT Barcelona €25k Event, earning his best live score of $325k.
Neymar Junior
This Brazilian footballer is popularly known as Neymar Jr. or simply Neymar is undoubtedly the best footballer in the world! The superstar who became the most expensive player says that poker pro Andre Akkari is his poker idol. Drawing attention for his impressive soccer abilities at an early age, he plans to play poker for real after he quits football. In 2015, Neymar Jr. signed as PokerStars ambassador, later appearing in a television ad campaign for the poker site alongside Cristiano Ronaldo. Two years ago, in July, he made a deep run in a high roller event at the Brazilian Series of Poker and ultimately ended in 6th place outlasting a field of 288 entrants to win $21k. He's also a frequent in online poker, once found busy playing poker while his team PSG claimed the Ligue 1 title.
Ronaldo
The Brazilian former football professional who played as a striker is considered one of the greatest football players of all time. Always been a keen poker player, in 2013 April, Ronaldo became a member of PokerStars SportStar and the very next year he played a charity poker tournament against tennis superstar Rafael Nadal. When the former Real Madrid striker retired, he switched his field and turned towards poker. Ronaldo is recorded to have cashed in two live poker events held in Paradise Island. Clearly, he doesn't have a poker record as good as his football record, but he has plenty of time to improve it.
Gianluigi Buffon
Everyone knows the greatest goalkeeper of all times. Buffon who went unbeaten in 974 consecutive minutes during the 2015-2016 season is recorded for the longest streak without conceding a goal in Serie A history. Italy's World Cup winner was introduced to poker only a couple of years ago when he participated in a charity poker event. This inspirational man holds immense admiration for the mind sport. In the year 2010, Gigi joined the ranks of Daniel Negreanu and Chris Moneymaker when he signed an agreement with Team PokerStars. Gigi who became the brand ambassador of PokerStars Italy played in a number of events particularly in the European Poker Tour (EPT). Once he retires from Juventus, he might consider this mind sport as an alternate career too!
Cristiano Ronaldo
Having won 29 trophies in his career including 6 league titles, one of the world's most recognizable football heroes and one of the biggest brands in the world too, Cristiano Ronaldo is football's living legend. Inarguably, one of the biggest names in the sport, Ronaldo joined PokerStars in 2015, promoting the platform and game of poker to a huge audience. He agrees that football is his world, but poker has always been his game and always enjoyed its strategic aspect. The fondness towards poker developed when he used to play at his home with his friends for hours. How most people get to be great at one sport, he got the best of both worlds.
English footballer Teddy Sheringham says, "I need competition in my life, where skill is needed. That's why I play poker seriously," he also mentions that he learned to play while at hotels or on the way to matches. Both football and poker are augmented as being incredibly popular across the globe, merging cultures, borders and friendly competitiveness on the table. Other than footballers, there are plenty of sportsmen who have turned to poker and to learn more. 
Keep reading GutshotMagazine.com and stay tuned for more!
Check out our online poker rooms section, where you can read reviews on the biggest and best poker rooms in the country, while also taking advantage of their bonuses and promotions. Check out these top poker rooms HERE.
---
---
Comments