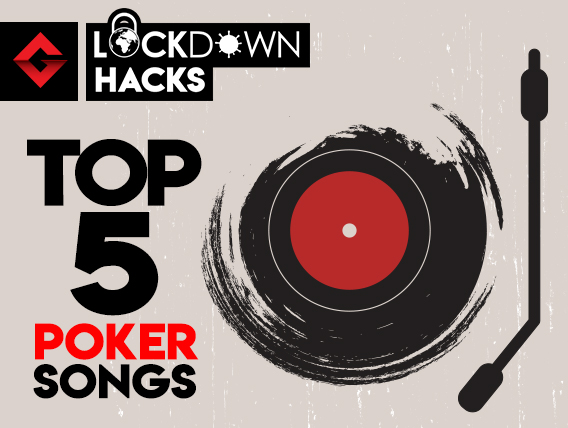 Poker
---
5 poker songs to listen to when in lockdown
Everything seems a little gloomy now that we've to stay at home all day, doesn't it? But there are ways and means to better your stay at home. Work on your home, work on yourself and of course, make sure you take this time to relax yourself too. A few days back, we suggested the top 5 books one can read during the 21-day lockdown in India.
To lighten the mood, we thought of some music as well. Listen to some good music at home, either on headphones or blast it out loud for everyone at home to hear too. If you want to keep your brain engaged through this period, music helps a long, long way. Especially if it's good music that you can relate to in some way.
Today, Gutshot is recommending 5 songs you can play on loop while at home. There are thousands of songs related to this game we love the most, so remember, this won't be a comprehensive list. It's just a list we've compiled and we're happy to hear some suggestions of your favourite poker songs too. Take a look:
Top 5 poker songs for the lockdown
1) The Gambler
Sorry, but this song just had to top the list. Iconic pop and country music singer Kenny Rogers passed away just a few days ago at the age of 81, and 'The Gambler' was one of the top hits of his career, one which got him a Grammy Award as well. There's no better tribute to the legend than having his music being played on loop, especially The Gambler, which also gives us some vital advice on when to hold 'em and when to fold 'em.
2) Poker Face
We often hear people saying that what you learn from poker can ideally be implemented in any part of your life. Well, here's Lady Gaga's bestselling single of 2009 which sold 9+ million copies worldwide. The song isn't even about the game of poker at all, but about the game of romance. Now whether you like her fashion sense or not, here's one song you have to like!
3) Viva Las Vegas
Every poker player in this country dreams of making it big and visiting the Sin City Las Vegas one day. Apart from plenty of gambling opportunities, Vegas is home to the annual World Series of Poker (WSOP), which is the most prestigious poker event in the world. This 1964 Elvis Presley classic was part of the movie Viva Las Vegas which lets you know what it's like to be in the 'bright light city' of Las Vegas!
4) A Good Run of Bad Luck
Luck plays a minor part of the game of poker that we all love and there's plenty we can relate to this song by Clint Black. 1994-hit movie Maverick was all about entering a high-stakes poker game which made this song a right fit to be added to the movie as well. The music video was pictured in old western town with Black's band playing in a dark room that had playing cards thrown all across the floor.
5) Hustle Hai
In the Indian circuit, we don't have too many songs on poker but here's one that was released last year, which is more of a promotional song released by 9stacks. The 'Hustle Hai' rap was performed by Dependent Artists at a time when the Ranveer Singh-starrer Gully Boy had just released, which gripped millions of people across India. Getting hooked on to this one might not take too long at all!
Remember that whatever you do, abide by the lockdown and stay at home as far as possible. Keep washing your hands and help us fight the COVID-19 disease together. Until next time, stay tuned to GutshotMagazine.com for similar 'Lockdown Hacks' articles…
Check out our online poker rooms section, where you can read reviews on the biggest and best poker rooms in the country, while also taking advantage of their bonuses and promotions. Check out these top poker rooms HERE.
---
---
Comments