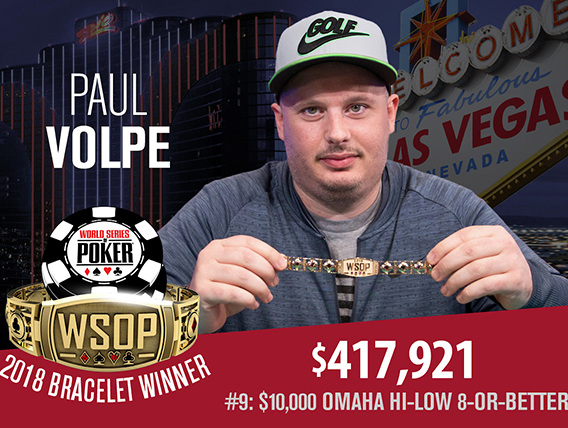 Poker
---
3rd WSOP bracelet for Paul Volpe
Paul Volpe became the champion of the first championship event of the 2018 World Series of Poker (WSOP) after an extra fourth day of the $10,000 Omaha Hi-Lo 8 or Better and a heads-up against fellow former WSOP gold bracelet winner Eli Elezra. Volpe collected his third gold piece from the series and a first-place payout of $417,921 for outlasting a 169-strong field represented by some of the world's best Omaha specialists. Of his victory, the player said that he was running really, really well and that anyone coming upon the cards he did would have probably won the event. Volpe further explained that now that he has tasted victory once again, he would probably look to capture another gold bracelet this summer.
The $10,000 Omaha Hi-Lo 8 or Better Championship was scheduled to be played over three days, but action was extended into a fourth day. The final day saw six finalists resume play at a poker table at the host venue, Rio All-Suite Hotel & Casino. The Day 4 starting field was quickly whittled down to just four players and it was at that point when action ramped up quite a bit.
Volpe himself said that during six- and five-handed play he was just trying to win a pot or two at a time, but he began putting quite some pressure after there were only four of them left at the table. Elezra took the chip lead at some point on Day 2 of the tournament and retained it until four-handed play on Day 4. At that stage of the game, the remaining players were nearly even in chips and each of them managed to assume the chip lead for a short while.
Volpe and Elezra were the last two remaining participants in the Omaha Championship. The duel began with Volpe holding the chip lead with nearly 5 million to his final opponent's 3.485 million. The eventual champion started pulling further ahead from the very first hand dealt within heads-up, giving Elezra little chance to recover. On what turned out to be the final hand in play, Elezra limped to see Volpe raise. Elezra called and the two players saw he Qd Jh 9c arrive on the flop. Elezra went all in for his last 750,000 with Kd Jc 7h 5s. Volpe called immediately with Ad Ts 8h 3h. A blank Qc on the turn and 3d on the river sent Elezra to the rail, denying him his fourth gold bracelet from the series. The player cashed $258,297 for terrific performance throughout the Omaha tournament and a runner-up finish.
The $10,000 Omaha Hi-Lo 8 or Better attracted 169 entries who generated a prize pool of $1,588,600. The money was split into payouts for those who occupied the top 26 places. Each of Day 4's six finalists was guaranteed a minimum cash $69,971.
---
---
Comments