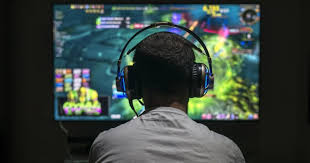 Gaming
---
3 of the best online games that you must try!
When it comes to the Internet, playing games is the most interesting and accessible thing that one could do as the following games that we are about to suggest you in this article as you read ahead are the easiest to play, simple to follow and may also earn you huge chunk of money.
You have sure heard about Counter Strike, PUBG or GTA which with time made a history on the internet with their strikingly interesting modules and attractive fandom who spend hours of their days playing games, entering tournaments and making money! But, did you know that two of the easiest and a slightly lesser known types on online games that earn you psychological and financial values are Poker and Board Games? 
If not, then we have a detailed plan for you to make your life better and easier by merely adopting the hobby of playing these online games and earning the least known benefits out of them!
Video Games – Video games are said to be the best kind of time killer and entertainer but, a lesser known fact about playing the Video games online is that even the most introvert people end up making friends and contacts which eventually counts in social interaction. Apart from this, Video games develops a tendency to multitask within a human which is later helpful in various walk of human life. Some Video Games also have a higher level of motivation like opportunities to participate in tournaments and winning prizes and fame
Poker – Poker is unarguably the best source of materialistic as well as holistic development of a person's life since it not only includes mind games and ability to quick decision making but also enables a person to take the plunge of playing Poker professionally and earning the luxury of a life they've never dreamed of! For beginners, you can register and play at ____ and ____ site has a potential of creating billionaires out of playing through it. We suggest you wait no more and take the flight to a life of your dreams by merely sustaining to play online Poker!
Board Games – In our metro lives today, it might be tad difficult to sit down in a group to play our favourite board games but with the luxury of smart phones and better accessible and cheaper availability of the internet, playing Board Games is now a piece of cake! Playing Board Games induce fun and help us relive the old memories just by clicking buttons and enjoying the games!
Check out our online poker rooms section, where you can read reviews on the biggest and best poker rooms in the country, while also taking advantage of their bonuses and promotions. Check out these top poker rooms HERE.
---
---
Comments