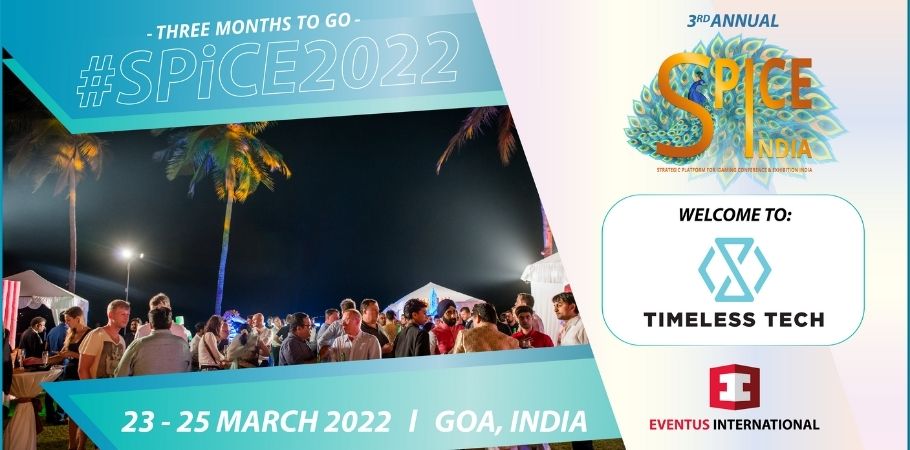 Gaming
---
3 Months To Go Until SPiCE India 2022 – Welcome to Exhibitor, Timeless Tech
Eventus International will be welcoming back the gaming industry in only 3 months to the much anticipated 3rd Annual SPiCE (Strategic Platform for iGaming Conference & Exhibition) India, from 23 – 25 March 2022 at Goa Marriott Resort & Spa in Goa, India.
Following the highly successful first two editions, SPiCE India 2022 will focus on how companies can maximise their growth potential, explore the innovations and advances made by the industry and take stock of the rapidly changing regulatory landscape as well as the challenges and opportunities in the industry. With a high-profile audience gathered under the same roof, SPiCE India 2022 will continue to offer the perfect opportunity to sponsors and exhibitors to showcase their products & services, as well as offering the ultimate brand visibility to an international audience through our marketing campaigns.
Eventus International warmly welcomes Timeless Tech as Exhibitor to SPiCE India 2022. The exhibition space is almost sold out and Eventus International encourages all interested to book as soon as possible. Choose from the various packages available to boost your brand and/or services and expand your business in the Indian sub-continent. To find out more, visit: https://www.sportsbettingevents.com/spice-india 
Networking events to look forward to:
– 23 March 2022 (17:00 – 23:00): The SP'iCE' Breaker Pre-event Networking Cocktail
– 24 March 2022 (19:00 – LATE): The SPiCE It Up Poker Tournament
– 25 March 2022 (17:00 – 23:00): The SPiCE Awards Ceremony
With all the necessary safety and social distancing measures in place for SPiCE India, Eventus International will offer a safe environment for industry professionals to meet, engage and network responsibly within the international gaming industry!
To view the full lineup of 2022 events, please visit: https://www.eventus-international.com/gaming-events
______________________________________________________________________
Stay up to date with Eventus International's event and publication offerings, subscribe to our YouTube channel here: https://www.youtube.com/channel/UCl6FRtGlwcLFtYkQxh7uZmQ
Eventus International is a dynamic, summit and exhibition company that connects leaders with leaders and turns opportunity into possibility. We utilise our vast networks and expertise to create forward thinking summits that align best practice and industry development with empowering content and outstanding networking opportunities.
Our summits and exhibitions have a longstanding reputation for gathering primary stakeholders in the industry to discuss the future of the gaming sector. We operate in profitable vertical industries with significant international growth potential while promoting the growth of emerging markets.
Every summit we produce is designed to provide practical solutions to strategic, tactical and technical challenges and shed light on new opportunities in the sector. We are renowned for producing exclusive, niche events, hosting C-Level executive audiences and gathering decision makers under the same roof while ensuring gender diversity and inclusion throughout.
The high standards that we set for ourselves are responsible for the success of events such as the SPiCE India, Analytics & AI In Gaming, GAME (Gaming & Affiliate Marketing Expo), Sports Betting East Africa+, iGG (iGaming Germany), RiSE (Russia iGaming Summit & Expo), All-In Gaming Ukraine Summit, SPiCE Sri Lanka, Sports Betting West Africa+, Fantasy eSports Summit, Scandinavian Gaming Show, All American Sports Betting Summit, Cyprus Gaming Show, iGaming Central America, International Lottery Play Summit, International eSports Business Forum, and Chile iGaming. 

---
---
Comments